Kim Chi Mun Doo
Spring 2010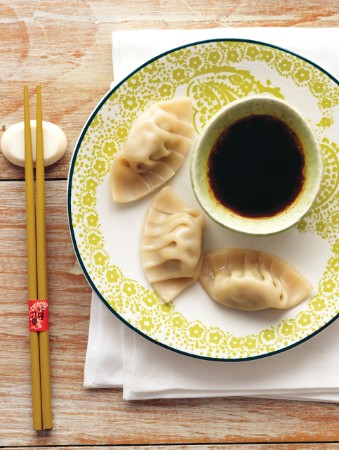 Kim Chi Mun Doo
Spring 2010
BY: Lucy Waverman
This typical Korean dumpling is made with kim chi, the famous spicy pickled cabbage. It is excellent steamed, but you can also fry it in a little oil after cooking. If kim chi is not easily available where you live, finely chop 2 cups (500 mL) napa cabbage and sauté in 1 tbsp (15 mL) vegetable oil until moisture evaporates. Mix with 1 tsp (5 mL) Korean pepper paste, 1 tbsp (15 mL) white vinegar and 1 tbsp (15 mL) tomato paste. Not quite the same but still delicious.
6 dried Chinese mushrooms, soaked in hot water for 20 minutes and chopped
¾ cup (175 mL) kim chi, drained and chopped
8 oz (250 g) ground pork
1 tsp (5 mL) chopped garlic
¼ cup (50 mL) chopped green onions
1 tbsp (15 mL) sesame oil
1 tbsp (15 mL) soy sauce
Salt and freshly ground pepper
30 dumpling skins
1 egg yolk, beaten with 1 tsp (5 mL) water

Dipping Sauce

¼ cup (50 mL) soy sauce
2 tbsp (25 mL) rice vinegar
1 tbsp (15 mL) sugar
1 tsp (5 mL) sesame oil
1 tbsp (15 mL) kim chi liquid
1. Combine mushrooms, kim chi, pork, garlic, onion, sesame oil and soy sauce. This may all be done in the food processor. Season well with salt and pepper. Fry a little piece in a skillet to check if seasoning is balanced.

2. Moisten edge of dumpling skin with egg and water mixture. Place a scant tablespoon (15 mL) of filling on each dumpling skin. Fold in half, pleating 1 side decoratively as you bring together. Place in a steamer basket.

3. Combine all ingredients for dipping sauce together.

4. Steam dumplings in a steamer over boiling water for about 5 to 7 minutes. Serve with dipping sauce.
SHARE