Keema Chatamari with Momo Achar
Winter 2016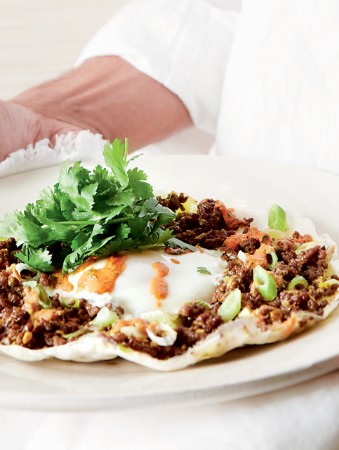 Keema Chatamari with Momo Achar
Winter 2016
BY: Christopher St. Onge
Chatamari, a thin, crisp rice-flour crepe topped with goodies, is otherwise known as Nepali pizza. Here, it gets topped with spiced ground meat, or keema, and an egg. And because we're eating Nepalese, why not top it with a traditional condiment? Usually served with little dumplings known as momos, the achar is delicious over the crepe.
MOMO ACHAR
3 plum tomatoes
3 tbsp (45 mL) sesame seeds
1½ tsp (7 mL) cumin seeds
1½ tsp (7 mL) Sichuan peppercorns, carefully picked through to discard black seeds
2 dried red chilies
2 cloves garlic, chopped
1 tbsp (15 mL) chopped ginger
1 tsp (5 mL) salt
¼ cup (60 mL) finely chopped cilantro
2 to 3 tbsp (30 to 45 mL) lime juice

KEEMA CHATAMARI
1 tbsp (15 mL) peanut or canola oil, plus extra for brushing pan
1 clove garlic, finely chopped
1 tbsp (15 mL) finely chopped ginger
8 oz (250 g) ground beef, chicken or turkey
¾ tsp (4 mL) salt, divided
¼ tsp (1 mL) turmeric
1 tsp (5 mL) ground cumin
1 green onion, chopped
¾ cup (175 mL) rice flour
1¼ cups (310 mL) cool water
4 eggs
Cilantro to garnish
1 To make the momo achar, broil the tomatoes until blackened all over, 4 to 6 minutes per side; set aside to cool.

2 Combine the sesame seeds, cumin, Sichuan peppercorns and chilies in a medium pan over medium heat; toast, stirring frequently, just until sesame seeds are light golden. Cool to room temperature and finely grind in a spice or coffee grinder.

3 Remove the skins from the tomatoes and roughly chop. Add them to a blender along with the sesame mixture, garlic, ginger and salt; liquefy. Stir in cilantro and 2 tbsp (30 mL) lime juice; taste and add as much as 1 tbsp (15 mL) more lime juice if desired. Set achar aside.

4 For the chatamari, heat 1 tbsp (15 mL) oil in an 8-inch (20-cm) nonstick skillet over medium heat. Fry garlic and ginger for 1 minute, oruntil fragrant; add ground meat and, breaking up from time to time with a fork, cook until no longer pink, about 5 minutes. Stir in ½ tsp(2 mL) salt, the turmeric and cumin. Remove from heat and add green onions. Turn out into a small heatproof bowl and wipe skillet clean.

5 In a medium bowl, whisk together rice flour, water and remaining ¼ tsp (1 mL) salt. Return nonstick skillet to medium-low, brush a small amount of oil evenly over bottom. Add ⅓ cup (80 mL) rice flour batter to pan and tilt to evenly cover bottom. Distribute roughly one-quarter of the meat mixture in a circular fashion along outer edge, leaving a space in the centre. Cover pan and cook for 10 to 12 minutes or until edges of crepe have curled upward and are crispy.

6 Crack an egg into centre, cover and cook 2½ minutes for a softly set egg with a runny yolk. Slide onto a plate, drizzle with a generous amount of the achar and top with additional cilantro leaves. Repeat with remaining batter (whisk before measuring for each crepe as rice flour settles to bottom of bowl), meat mixture, and eggs to make 3 more.
SHARE