Kale with Italian Sausage & Roasted Garlic
Autumn 2014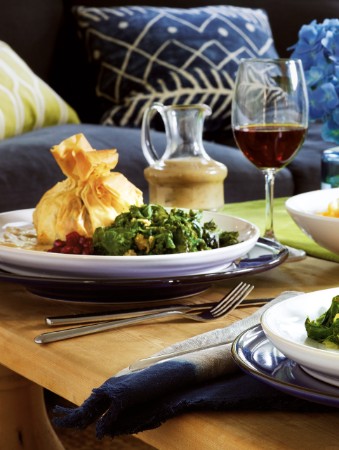 Kale with Italian Sausage & Roasted Garlic
Autumn 2014
BY: Marilyn Bentz-Crowley
Kale is similar to spinach in that a huge heap becomes greatly reduced by cooking. An excellent Ontario-made sausage for this side dish is Marc Angelo Lean Pork Mild Italian sausage, available at grocery stores—that is, unless you have a local Italian butcher who makes sausage fresh in the store. Fennel seed in the sausage is desirable!
1 large bunch fresh kale leaves
1 tbsp (15 mL) olive oil
Approx 4 oz (125 g) fresh Italian sausage, sweet or hot
½ cup (125 mL) diced sweet onion such as red, Vidalia or Spanish
1 large roasted garlic clove, or 1 fresh, minced
¼ tsp (1 mL) each of salt and freshly ground black pepper
½ cup (125 mL) chicken broth or water
1 lemon, cut into wedges, or small pitcher of balsamic vinegar
1 When cleaning kale leaves, discard tough inner ribs, and use only the green leafy portion; cut or break into small bite-size pieces. There should be about 8 to 10 cups (2 to 2.5 L) or possibly more.

2 Add oil to a deep pot or Dutch oven over medium heat. Remove sausage from casing; when oil is hot, crumble in sausage. Sauté, breaking up even more into small pieces, for 3 to 5 minutes or until lightly browned and all pink is gone. Drain off visible fat, leaving only a slick in pan.

3 Stir in onion, garlic and seasonings; cook 2 to 3 minutes or until softened. Then add kale and chicken broth. Bring to a boil, cover and reduce heat to simmer for 5 minutes. Uncover and let bubble for 10 minutes or until liquid is much reduced; drain.

4 Serve in a warmed dish; pass lemon slices for each person to squeeze over their portion. Alternatively, have people drizzle a few drops of balsamic vinegar over individual portions.
SHARE