Joel's Favourite Ribs
Early Summer 2015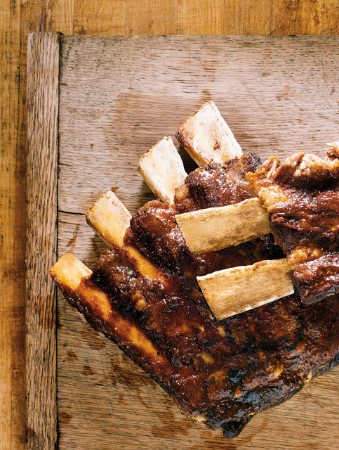 Joel's Favourite Ribs
Early Summer 2015
BY: Joel Diener
The beef ribs are removed from whole prime ribs which are then served boneless as rib-eye roasts. There are generally seven ribs. Cut them in two leaving a three-bone and four-bone section. You can do Step 2 in the oven ahead of time and finish them on the grill later, if desired.
2 tsp (10 mL) paprika
1 tsp (5 mL) ground cumin
1 tsp (5 mL) dried oregano
1 tsp (5 mL) salt
1 tsp (5 mL) cayenne (or to taste)
2 racks beef ribs, cut into 3 and 4 rib sections
1 Mix all the spices together and rub over ribs.

2 Heat barbecue to 250°F (120°C) by turning off 2 burners and leaving 1 on medium. Place ribs in a baking dish and cover with foil. Cook ribs, covered, for 2 to 3 hours until tender.

3 Turn up grill heat to 400°F (200°C). Remove foil, place ribs on grill and cook for 20 to 25 minutes, turning occasionally and brushing with pan juices until they are nicely glazed.
SHARE