Curried Lamb Shanks
Automne 2009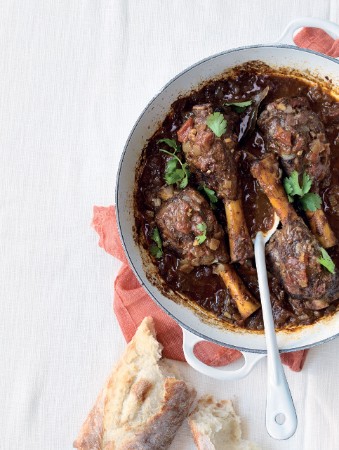 Curried Lamb Shanks
Automne 2009
BY: Lucy Waverman
Slow-cooked lamb that ends up glazed with a rich sauce. If you make this the day before, you can chill it, which makes it very easy to skim the fat from the sauce. Serve with steamed rice and sautéed eggplant and zucchini.
3 tbsp (45 mL) vegetable oil
3 tbsp (45 mL) medium Indian curry paste
4 lamb shanks
Salt to taste
1 onion, chopped
1 tbsp (15 mL) chopped ginger
1 tbsp (15 mL) chopped garlic
2 tsp (10 mL) garam masala
2 cups (500 mL) beef or chicken stock
1 cup (250 mL) chopped canned tomatoes
2 tbsp (25 mL) balsamic vinegar
1 tsp (5 mL) sugar
1 piece orange peel, 1 x 2 inches (2.5 x 5 cm)
1 bay leaf
¼ cup (50 mL) chopped coriander
1. Preheat oven to 300°F (150°C).

2. Combine 2 tbsp (25 mL) vegetable oil and curry paste and rub lamb shanks with two-thirds of curry mixture. Season with salt.

3. Heat remaining 1 tbsp (15 mL) vegetable oil in a large Dutch oven over medium-high heat. Brown lamb shanks on all sides for about 2 minutes per side or until a dark brown colour. Remove from pot.

4. Turn heat to low and add more oil if needed. Add onions and cook slowly for 10 minutes or until very soft but barely coloured. Add ginger, garlic, garam masala and remaining curry mixture and sauté for 2 minutes or until fragrant.

5. Add stock, chopped tomatoes, balsamic vinegar, sugar, orange peel and bay leaf and bring to a boil. Return shanks to pot, cover and bake for 1 hour. Turn meat, bake 30 minutes longer, turn again, uncover and bake 30 minutes longer or until lamb is very tender and sauce is rich. Skim fat from sauce. Remove bay leaf and orange peel and sprinkle with coriander before serving.
SHARE