Italian "Club" Sandwiches
Temps des Fêtes 2018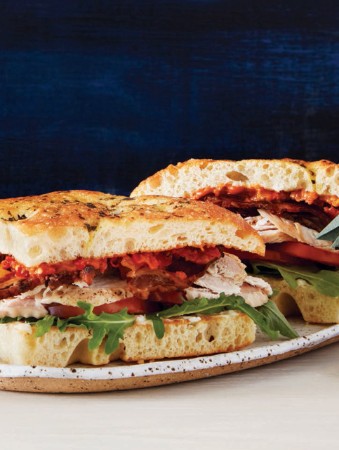 Italian "Club" Sandwiches
Temps des Fêtes 2018
BY: Michelle Rabin
There's no reason to settle for a subpar slapped together sandwich when you've got turkey leftovers. Elevate them with this Italian-inspired turkey club made with guanciale, arugula and a homemade spicy bomba sauce. Guanciale (Italian cured pork jowl) stands in for bacon in this recipe. Often fattier, it has a more delicate texture and a seductive porky flavour. You can find it at specialty delis and some butcher shops. The kick of this sandwich comes from the homemade spicy bomba, a sauce made from hot cherry peppers, garlic, eggplant and mushrooms. Stacked with a thick layer of mayonnaise and fresh tomatoes, this sandwich is a reason to cook a turkey, holiday or no holiday.
8 slices guanciale, ¼ inch (5 mm) thick
¼ cup (60 mL) mayonnaise
8 slices focaccia bread, toasted
1 cup (250 mL) arugula
8 tomato slices (about 2 medium tomatoes).
8 slices of turkey, ¼ inch (5 mm) thick
¼ cup (60 mL) Bomba Sauce (recipe follows)
1. Place slices of guanciale in a medium skillet and heat over medium. Cook until deep red and crisp, about 12 minutes, stirring often.

2. Remove guanciale slices from pan and place on a paper-towel-lined plate.

3. Spread 1 tbsp (15 mL) mayonnaise on a slice of bread. Top with ¼ cup (60 mL) arugula, 2 tomato slices and 2 slices of turkey. Layer 2 pieces of the guanciale on top of turkey. Spread 1 tbsp (15 mL) Bomba Sauce on another slice of bread to close the sandwich. Repeat with remaining ingredients to make 3 more sandwiches.
HOMEMADE BOMBA SAUCE

Bomba sauce is a spicy condiment that will inject life into any dish you put it on. Toss with some pasta, smear it on a sandwich, or serve it on a cheese board. Bomba sauce has some serious heat but also has a rich, deep flavour thanks to the good-quality olive oil, mushrooms and eggplant in the recipe. Store it in your fridge with a thin layer of olive oil covering the surface and it will stay good for weeks.

½ cup (125 mL) extra virgin olive oil, divided
5 cremini mushrooms, diced
½ eggplant (450 g), diced
2 large garlic cloves, smashed
1 tsp (5 mL) salt
1 jar (750 mL) pickled cherry peppers, stemmed and seeded
3 tbsp (45 mL) red wine vinegar
½ tsp (2 mL) fresh cracked pepper
1. Heat 2 tbsp (30 mL) olive oil in a large pan over medium. Add in the mushrooms, eggplant, garlic and salt. Cook, stirring occasionally, until deep brown and tender, about 10 minutes.

2. Transfer contents of the pan to a food processor along with cherry peppers and vinegar and pulse until mixture is smooth. Pour in remaining olive oil and the pepper and stir to combine.
SHARE