Iranian Eggplant, Onion & Split Peas
Spring 2015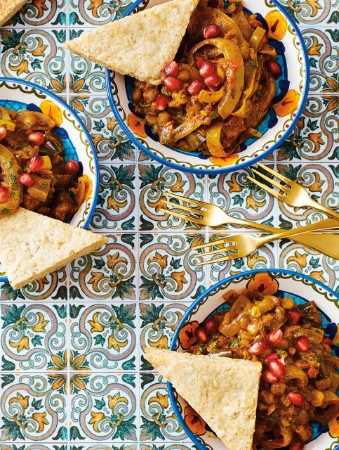 Iranian Eggplant, Onion & Split Peas
Spring 2015
BY: Lucy Waverman
A good part of Middle Eastern cooking pairs vegetables and fruit. In this recipe, pomegranate molasses (available in Middle Eastern grocers and some supermarkets, or visit lcbo.com for recipe) is used for the fruitiness and you could add pomegranate seeds for garnish if desired. For a substantial main course, add ground lamb into this. Serve with Walnut Biscuits (recipe follows).
4 Japanese eggplants, cut in half
3 tbsp (45 mL) olive oil
Salt and freshly ground pepper
½ cup (125 mL) split peas

SAUCE

2 tbsp (30 mL) olive oil
1 large Spanish onion, thinly sliced
Pinch of sugar
¼ tsp (1 mL) salt
1 tbsp (15 mL) minced garlic
1 cup (250 mL) canned tomatoes, drained and chopped
1 tsp (5 mL) ground turmeric
1 tsp (5 mL) ground cinnamon
3 tbsp (45 mL) pomegranate molasses
1 cup (250 mL) vegetable or chicken stock or water
Salt and freshly ground pepper
1 tbsp (15 mL) red wine vinegar
2 tbsp (30 mL) chopped parsley
2 tbsp (30 mL) chopped coriander
1 Preheat oven to 450° (230°C).

2 Brush eggplant with oil and season with salt and pepper. Lay on a baking sheet and bake for 8 minutes or until browned and softened. Remove from oven and cool. Chop into ½-inch (1-cm) pieces.

3 Place split peas in a pot with water to cover by 1-inch (2.5-cm). Bring to boil. Reduce heat and simmer, covered, for 15 to 25 minutes or until cooked but still al dente. Drain and reserve.

4 Add oil to a skillet over medium heat. Add onions and sprinkle with a pinch of sugar and salt. Sauté for 5 to 7 minutes or until golden.

5 Add eggplant, split peas, garlic, tomatoes, turmeric, cinnamon and pomegranate molasses to skillet with onions and stir together.
Raise heat to medium-high and add stock. Bring to boil, then reduce heat to low and simmer for 10 minutes covered. Remove cover
and cook for 15 minutes more or until sauce is thick and eggplant is tender. Season well with salt and pepper. Stir in vinegar, parsley and coriander.
WALNUT BISCUITS

Walnuts are used in many Middle Eastern dishes. This recipe is a nice alternative to a walnut cracker.

¾ cup (175 mL) walnuts
1½ cups (375 mL) all-purpose flour, and more for dusting
1 tbsp (15 mL) sugar
1 tsp (5 mL) salt
Pinch of cayenne pepper
½ cup (125 mL) butter, cubed
1 egg white
1 Preheat oven to 350°F (180°C). Line baking tray with parchment paper.

2 Pulse walnuts in food processor until coarsely ground. Add flour, sugar, salt and cayenne, and pulse to combine. Continue pulsing and add butter gradually. Add enough egg white to form dough.

3 Roll dough on a lightly floured surface into a 10 x 6-inch (25 x 15-cm) rectangle. It should be ¼ inch (5 mm) thick. Cut into 12 triangles and place onto prepared baking tray. Bake for 18 to 20 minutes or until edges are golden. Allow to cool and serve with eggplant.
SHARE