Individual Fig & Ham Stuffing
Holiday 2016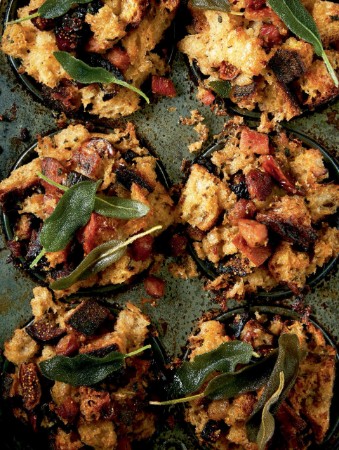 Individual Fig & Ham Stuffing
Holiday 2016
BY: Christopher St. Onge
There's something really satisfying about making individual stuffing portions—it's no more work, really, but looks like you went to a lot of trouble. This buttery dressing is studded with salty ham, sweet dried figs, plenty of herbs and a hint of warming spice.
½ cup (125 mL) coarsely chopped dried mission figs
¼ cup (60 mL) dry Marsala
2 tsp (10 mL) honey
½ cup (125 mL) unsalted butter, divided
1 medium onion, chopped
8 oz (250 g) good-quality smoked ham, finely diced
4 cloves garlic, finely chopped
¼ cup (60 mL) finely chopped fresh sage
2 tbsp (30 mL) finely chopped rosemary
1 tsp (5 mL) salt
Pinch each ground nutmeg and ground clove
Freshly ground black pepper
2 cups (500 mL) turkey or chicken stock
2 eggs plus 1 egg yolk
10 cups (2.5 L) day-old crusty whole-grain bread, cut into ½ inch (1 cm) dice
Fried sage leaves to garnish, optional
1 Combine figs, Marsala and honey is a small pot over medium heat; bring to a boil. Reduce to low and simmer for 5 to 6 minutes or until liquid is absorbed. Remove from heat and set aside.

2 Melt ¼ cup (60 mL) butter in a large skillet over medium heat. Fry onion, stirring occasionally until golden, about 6 minutes. Stir in ham and continue to cook for 4 to 5 more minutes or until ham begins to crisp. Add garlic to pan along with sage, rosemary and salt; stir. Cook 2 minutes longer, remove from heat and fold in the reserved figs, nutmeg, clove and pepper.

3 Preheat oven to 350°F (180°C).

4 Whisk together stock, eggs and yolk. Add bread to a large bowl and toss together with the ham mixture. Pour stock mixture over and toss to combine.

5 Melt remaining ¼ cup (60 mL) butter. Using a pastry brush, butter the cavities of a large muffin tin (there will be butter remaining). Divide stuffing between 12 cavities and drizzle remaining butter overtop. Bake for 20 to 25 minutes or until hot and golden. Let stand for 15 minutes (hot stuffing will be quite fragile and will firm up upon standing) before running a sharp knife around edges to loosen and remove. Garnish, if desired, with fried sage leaves (see TIP). Serve warm or at room temperature along with turkey and gravy.
TIP Frying sage until crisp is very simple. Heat a ½-inch (1 cm) depth of vegetable, canola or olive oil over medium heat. Once hot, add several sage leaves and fry until crisp. This should take no more than 10 to 15 seconds. Remove with a slotted spoon to a paper-towel-lined plate to drain. Repeat until you have desired amount of garnish.
SHARE