Indian-Spiced Lamb with Roasted Vegetable Raita
Summer 2009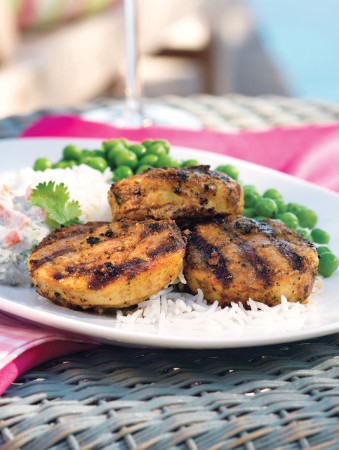 Indian-Spiced Lamb with Roasted Vegetable Raita
Summer 2009
BY: Marilyn Bentz-Crowley
While lamb steaks cut from the leg are difficult to find, lamb medallions are in the frozen food section of groceries. Don't defrost; merely coat this meaty lamb with curry paste. Patak's or Sharwood's brands are widely available and do choose the hot variety, which is not all that spicy at the end. Serve the lamb on fragrant basmati rice with hot peas on the side. Two medallions are enough for a lighter serving, but heartier eaters will need three.
1 cup (250 mL) grated English cucumber, about 1⁄2 medium
1 cup (250 mL) thick sour cream or yoghurt
1 green onion, thinly sliced
1 tbsp (15 mL) finely chopped fresh mint
1⁄4 tsp (1 mL) salt
2 large plum tomatoes
1 sweet red pepper
1⁄4 cup (50 mL) coarsely chopped fresh coriander
5 to 6 tbsp (75 to 90 mL) hot Indian curry paste (not Thai)
8 to 12 frozen lamb medallions (2 to 3 pkgs)
Hot basmati rice (see TIP)
1. To prepare raita, squeeze out most of cucumber's moisture using your hands; place shreds in a bowl. Stir in sour cream, green onion, mint and salt; cover and refrigerate until needed, up to a day ahead.

2. About 30 to 40 minutes before serving, preheat barbecue until very hot. Cut tomatoes and pepper in half lengthwise; seed. Lightly coat skins with grilling spray or rub with a bit of oil. Grill, skin-side down, for 5 to 10 minutes or until tomato skins are loosened and pepper skins are blackened. Vegetables remain somewhat firm, not mushy.

3. Cool; remove skins and discard. Dice vegetables into small pieces; stir into raita along with coriander.

4. Press curry paste onto frozen medallions.Have barbeque moderately hot.Grill medallions for a total of 15 minutes, turning occasionally, for medium rare (145°F/63°C internally) or a few minutes longer for medium (160°F/70°C internally). Do not cook more than medium.

5. Place medallions directly on hot rice, add a dollop of raita and serve with remaining raita.

TIP: Basmati rice should be Indian in origin—California grown basmati is not the same. Wash 2 cups of basmati under cold running water; drain. Transfer to a medium saucepan. Add 2 cups (500 mL)water and 2⁄3 cup (150 mL) coconut milk; let soak for 30 to 60 minutes. Bring to a boil, reduce heat to low and cook 15 minutes.Then without lifting lid, turn off heat and allow to steam for another 15 minutes.Rice keeps hot for up to an hour if lid is not disturbed. Fluff and serve.
SHARE