Indian Turkey
Temps des Fêtes 2008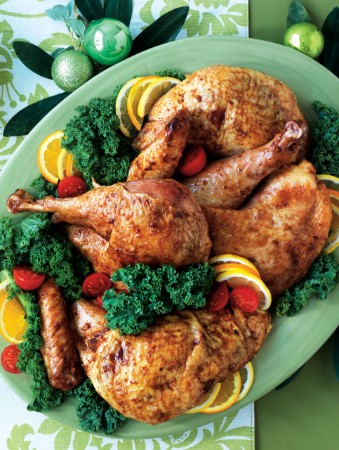 Indian Turkey
Temps des Fêtes 2008
BY: Lucy Waverman
This time the turkey is butterflied and laid flat to cook a bit quicker. Ask the butcher to butterfly the turkey by cutting out the backbones and removing the breastbone. The turkey can be opened up flat.
Flavoured Butter
1 tbsp (15 mL) chopped garlic
2 tbsp (25 mL) grated ginger
2 tbsp (25 mL) lemon juice
2 tbsp (25 mL) Madras or other curry paste
1 tbsp (15 mL) paprika
2 tbsp (25 mL) vegetable oil
½ cup (125 mL) softened butter
One 12 lb (5.5 kg) turkey, butterflied

Sauce
1 tbsp (15 mL) flour
2 cups (500 mL) turkey or chicken stock
1 tbsp (15 mL) mango chutney, blended if it is too chunky
1. Preheat oven to 400ºF (200ºC).

2. Combine garlic, ginger, lemon juice, curry paste, paprika, vegetable oil and butter in a food processor or by hand.

3. Loosen turkey skin gently with your fingertips and stuff half of butter under the skin. Spread remaining butter over turkey.

4. Place turkey on a rack over a roasting pan. Place pan in oven and roast for 30 minutes. Reduce heat to 350ºF (180ºC) and roast another hour or until turkey is crisp and juices run clear. An instant read thermometer should read 165ºF (73ºC) when placed in the thickest part of the turkey.

5. Remove turkey from oven and let rest on carving board for 15 minutes. Spill out all but 1 tbsp (15 mL) of fat from roasting pan and place over medium heat. Stir in flour and cook until flour has browned slightly, about 1 minute. Stir in stock and bring to boil. Boil for 1 minute then stir in chutney. Reduce heat to low and simmer for 1 minute. Taste for seasoning adding salt and pepper as needed.

6. Slice turkey and serve with sauce, the gratin and roasted vegetables. Serve the cranberry chutney from the previous recipe on the side.
SHARE