Indian Pea and Potato Pancakes
Holiday 2006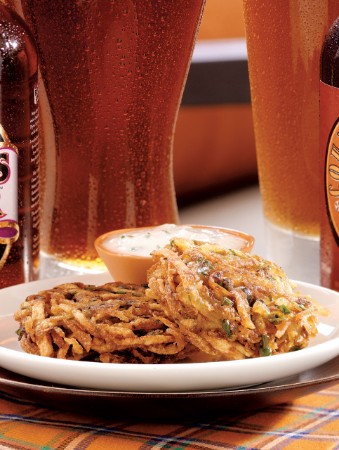 Indian Pea and Potato Pancakes
Holiday 2006
BY: Sasha Chapman
Accompany with labneh (available at Middle Eastern grocery stores) or minted yogurt: stir coarsely chopped fresh mint, white onion and salt and pepper into full-fat plain yogurt.
4 russet potatoes
1 onion
1 egg
2 tbsp (25 mL) all-purpose flour
¼ tsp (1 mL) coriander
¼ tsp (1 mL) turmeric
¼ tsp (1 mL) cumin
½ tsp (2 mL) garam masala
2 tbsp (25 mL) grated ginger
2 tbsp (25 mL) chopped cilantro
Salt and pepper to taste
½ cup (125 mL) peas (frozen petit pois work well)
Vegetable oil for frying
Minted yogurt (see note above)
1. Peel and grate potatoes and onion in a food processor or by hand. Transfer to a sieve or kitchen towel and squeeze out excess water. In a large bowl, combine grated mixture with egg, flour, spices, ginger and cilantro. Stir in peas and season well with salt and pepper.

2. Heat a few tablespoons of oil in a large heavy skillet over moderate heat. Drop mixture into skillet, a few spoonfuls at a time. (For crisp, lacy pancakes, flatten with a spoon.) Fry in batches, turning once, for 4 minutes a side or until golden brown.

3. Drain on paper towels and serve immediately with minted yogurt.
SHARE