Indian Grilled Lamb Kebabs
Summer 2003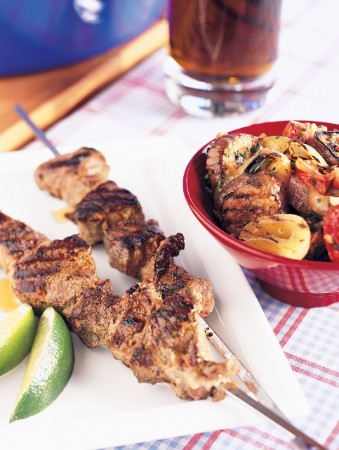 Indian Grilled Lamb Kebabs
Summer 2003
BY: Lucy Waverman
Using skewers in cooking makes it easier to serve such fish as shrimp and scallops and to easily turn over smaller pieces of meat or chicken. If using bamboo skewers remember to soak them for 1 hour to prevent flare-ups. Other excellent skewers include lemon grass for Asian recipes, long stalks of rosemary for lamb, beef and chicken recipes and metal skewers for even cooking. Some skewers have interesting designs at one end and make for a dramatic presentation. Flat-sided skewers hold food better than round ones. Serve these kebabs with rice or grilled bread and our eggplant salad (recipe follows).
1/4 cup (50 mL) yogurt
1 tbsp (15 mL) finely chopped garlic
1 tbsp (15 mL) finely chopped ginger root
1 tbsp (15 mL) lemon juice
1 tbsp (15 mL) garam masala or
1 tbsp (15 mL) tandoori paste
Salt to taste
2 tbsp (25 mL) vegetable oil
1 1/2 lb (750 g) boneless lamb leg, trimmed of fat,
cut in 1-inch (2.5-cm) cubes
2 tbsp (25 mL) oil for brushing lamb
1.  Combine all ingredients except lamb. Stir in lamb and marinate for 4 hours or overnight in refrigerator.

2.  Thread lamb onto skewers, brush with oil, season with salt and pepper and grill for about 6 to 10 minutes, turning once, or until juices are just pink for medium rare or no longer pink for medium. Place skewers onto serving platter.

Grilled Eggplant Salad
3 Japanese eggplants
1 large sweet onion, peeled
4 plum tomatoes
1 green chili, jalapeno or Serrano
1/4 cup (40 mL) vegetable oil
Salt and freshly ground pepper
1 tbsp (15 mL) chopped ginger
1 tbsp (15 mL) chopped garlic
1 tbsp (15 mL) ground cumin seeds
1 tbsp (15 ML) ground coriander seeds
1 tsp (15 mL) garam masala
3 tbsp (45 mL) chopped coriander
1. Cut eggplant into rounds about 1/2-inch (1-cm) thick. Slice 1/2-inch (1-cm) thick rounds and cut tomatoes in half and remove seeds. Brush everything with 2 tbsp (25mL) oil and season with salt and pepper.

2. Grill eggplant and onions about 4 minutes per side turning vegetables once. Tomatoes grill for 1 minute per side. Chop into chunks. Grill chili about 2 minutes per side, or until beginning to char and peel around the edges.

3. Heat remaining oil in skillet on grill over medium heat. Add ginger and garlic and saute for one minute. Add cumin and coriander and saute for another minute. Stir in all the vegetables, season with salt, cover and saute gently for 5 minutes or until the vegetables begin to break down. Stir in garam masala. Reheat when needed.

4. Season to taste. Garnish with coriander just before serving.
SHARE