Oysters on the Half Shell with Green Apple Mignonette
Holiday 2021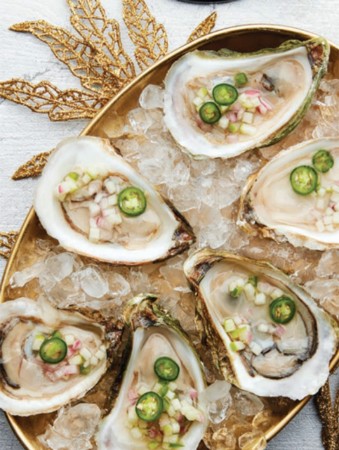 Oysters on the Half Shell with Green Apple Mignonette
Holiday 2021
BY: Eric Vellend
Mignonette, the Gallic oyster condiment, gets a makeover with tart apple, spicy jalapeño and fruity cider vinegar. Make sure to buy your oysters from a reputable fishmonger or oyster bar, and ask them to throw in a bag of crushed ice, which will save you the time and effort of making your own.
­1/4 cup (60 mL) cider vinegar
1/4 cup (60 mL) rice vinegar
1 tsp (5 mL) sugar
1/3 cup (80 mL) finely chopped Granny Smith apple
2 tbsp (30 mL) finely chopped shallot
1 tbsp (15 mL) finely chopped jalapeño
­1/4 tsp (1 mL) coarsely ground black pepper
24 oysters
Crushed ice
Thin slices of hot green chilli pepper for garnish (optional)
1. In a small mixing bowl, whisk vinegar and sugar until sugar is dissolved. Stir in apple, shallot, jalapeño and black pepper. Cover and refrigerate for at least 1 hour but no more than 6 hours.

2. Shuck oysters and arrange them on a platter of crushed ice. Spoon some mignonette over each oyster and garnish with chilli pepper, if using. Serve immediately.
Makes 24 oysters with mignonette
SHARE