Hot and Sweet Chicken Wings
Été 2011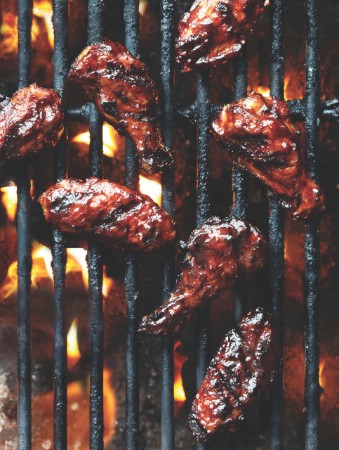 Hot and Sweet Chicken Wings
Été 2011
BY: Lucy Waverman
Ancho chili powder has a chocolatey taste and is not overwhelmingly hot. Substitute with regular chili powder or, for pure heat, 1 tsp (5mL) Asian hot sauce (Sambal Oelek). Because sugar and ketchup are sweet, this sauce will burn if applied too early.
4 lbs (2 kg) chicken wings, separated, wing tip discarded (see TIP)
2 tbsp (30 mL) vegetable oil
Salt and freshly ground pepper
¼ cup (60 mL) ketchup
2 tbsp (30 mL) Dijon mustard
1 tbsp (15 mL) soy sauce
3 tbsp (45 mL) brown sugar
¼ cup (60 mL) apple cider vinegar
1 tsp (5 mL) chopped garlic
1 tsp (5 mL) chopped ginger
1 tbsp (15 mL) ancho chili powder
2 tbsp (30 mL) vegetable oil
1 Preheat grill to medium-high.

2 Toss chicken wings with oil, salt and pepper. Reserve.

3 Combine ketchup, mustard, soy sauce, brown sugar, cider vinegar, garlic, ginger and chili powder in a small pot over high heat. Bring to boil, stirring to dissolve sugar, then remove from heat and stir in oil. Place in a bowl and set aside.

4 Season chicken wings with additional salt, pepper and chili powder to taste. Brush with additional vegetable oil. Place chicken wings on grill and grill for 3 minutes, turn over and grill another 3 minutes. Brush liberally with sauce and turn over again. Repeat, turning and brushing with sauce every 3 minutes or until chicken wings are cooked through, about 12 to 20 minutes depending on the size of the wings.

TIP There are 2 methods for preparing chicken wings for the grill or for roasting.

Method 1: Cut off wing tips and separate drumettes and wing. This is the easier method, but not so attractive.

Method 2: Twist wing tip under wing and grill the wing and drumette together. This takes a little longer and although they look beautiful, it is a little harder to get them cooked evenly.
SHARE