Horseradish and Smoked Trout Paté on Rye Croutons
Holiday 2013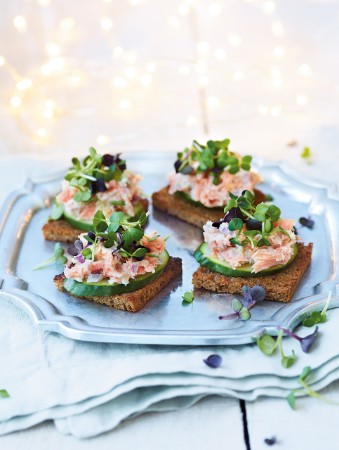 Horseradish and Smoked Trout Paté on Rye Croutons
Holiday 2013
BY: Lucy Waverman
For a more luxurious dish, top the trout mixture with a little salmon caviar.
10 slices rye bread
3 tbsp (45 mL) melted butter
½ cup (125 mL) sour cream
¼ cup (60 mL) unsalted butter, softened
3 tbsp (45 mL) prepared horseradish, drained
2 tbsp (30 mL) finely chopped red onions
Salt and freshly ground pepper
8 oz (250 g) smoked trout, skin removed
½ English cucumber, thinly sliced

GARNISH
½ cup (125 mL) radish sprouts
1 Preheat oven to 350°F (180°C).

2 Cut crusts off bread. Brush both sides with butter. Cut into triangles or squares. Bake for 8 minutes, flipping once halfway through, until golden and toasted. Reserve.

3 In a bowl, stir together sour cream, butter, horseradish and onions. Season with salt and pepper.

4 Flake trout into sour cream mixture and stir gently.

5 Place a slice of cucumber on toast. Top with about 2 tsp (10 mL) trout mixture and garnish with radish sprouts.
SHARE