Horseradish Grilled Steak and Potato Salad
Summer 2004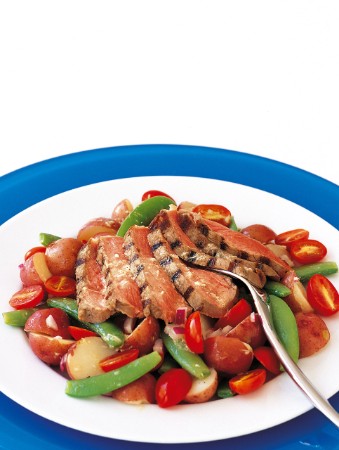 Horseradish Grilled Steak and Potato Salad
Summer 2004
BY: Jennifer MacKenzie
Steak and potatoes with a decidedly new twist. A piquant dressing on creamy new potatoes, market fresh peas and tomatoes with a sizzling steak on top are sure to be a hit at any summer dinner. Adding part of the dressing to the warm potatoes helps the flavour soak in. Add the remaining dressing just before serving to keep the salad moist. If you like, add more horseradish to suit your taste or use an extra-hot variety.
Dressing
1/3 cup (75 mL) cider vinegar
1 tbsp (15 mL) prepared horseradish
2 tsp (10 mL) Dijon mustard
1 tsp (5 mL) sugar
½ tsp (2 mL) salt
¼ tsp (1 mL) freshly ground pepper
½ cup (125 mL) light olive oil

Salad
2 lbs (1 kg) red-skinned mini-potatoes, cut in half
¼ cup (50 mL) diced red onion
8 oz (250 g) sugar snap peas, strings removed
2 tbsp (25 mL) Dijon mustard
2 tbsp (25 mL) prepared horseradish
Salt and freshly ground pepper
4 boneless beef strip loin or rib steaks or tenderloin medallions, about 1-inch (2.5 cm) thick
1 cup (250 mL) grape or cherry tomatoes, cut in half
1. To make dressing, whisk together vinegar, horseradish, Dijon, salt and pepper. Gradually whisk in olive oil until blended. Set aside.

2. For salad, place potatoes in a large saucepan and cover with cold salted water. Bring to boil over medium-high heat. Reduce heat and boil gently for about 15 minutes or until tender. Drain and place in a large bowl. Toss with half of the dressing. Set aside until cool.

3. Add onion and all but ¼ cup (50 mL) of remaining dressing to potatoes and toss to coat. Cover and refrigerate salad and extra dressing for up to 1 day. Bring to room temperature before serving.

4. Bring a pot of salted water to boil and add sugar snap peas. Boil for 2 to 3 minutes or until tender-crisp. Refresh with cold water until cool. Cut in half if large and add to potato salad.

5. Preheat grill to high. Combine Dijon and horseradish and brush over steaks. Season with salt and pepper. Place steaks on grill. Grill for about 4 to 5 minutes per side, turning once, or until juices just begin to appear on top for medium-rare. Let rest for 5 minutes.

6. Toss salad and check seasoning. Divide onto 4 serving plates and sprinkle with tomatoes. Slice steak thinly across the grain and serve on top of salad drizzled with reserved dressing.
SHARE