Horseradish & Gruyère Roasted Fingerlings
Spring 2021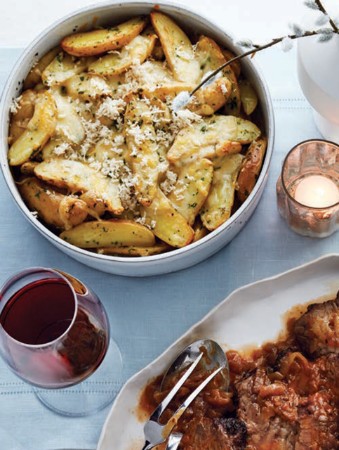 Horseradish & Gruyère Roasted Fingerlings
Spring 2021
BY: Jesse Vallins
These potatoes can be cooked a few hours ahead of time, following steps 1 to 3, loosely covered at room temperature, and then finished just before serving from step 4. If you can't find Gruyère, the potatoes are equally delicious with aged cheddar or Grana Padano.
2 lbs (905 g) fingerling potatoes, halved lengthwise
Kosher salt
3 tbsp (45 mL) unsalted butter
2 cloves garlic, flattened with a knife
1 sprig of fresh rosemary
Freshly ground black pepper
4 sprigs fresh parsley, leaves only, finely chopped
6 oz (170 g) Gruyère cheese, grated
1/4 cup (60 mL) finely grated fresh horseradish
1. Preheat oven to 400°F (204°C).

2. Place potatoes in a heavy-bottomed pot and cover with cold water. Season generously with salt (the liquid should be salty like seawater). Bring to a boil, then reduce heat to a simmer. Cook until potatoes are just tender, about 8 minutes.

3. Drain in a colander, then place potatoes on a paper towel-lined tray to dry until ready to finish.

4. To serve, heat an ovenproof frying pan large enough to hold potatoes to medium-high. Melt butter until it begins to foam, then add garlic and rosemary. Add potatoes, season with salt and pepper, and toss to combine.

5. Place pan in oven and roast potatoes for 10 minutes.

6.  Remove from oven, discard garlic and rosemary, and toss parsley into potatoes. Sprinkle Gruyère over top, and return to the oven for 5 minutes more to melt and brown the cheese. Transfer potatoes to a warmed serving dish and top with horseradish.

TIP:

If you have the time, and space in your refrigerator, seasoning the brisket the night before will yield more flavourful results.

This recipe works best with the leaner portion of the brisket, called the flat. An experienced butcher will be able to source this easily.

Leftover beef and Gruyère can be shredded and combined between slices of good bread for a decadent grilled cheese sandwich.
SHARE