Honeyed-Jalapeño & Cumin Burgers
Summer 2013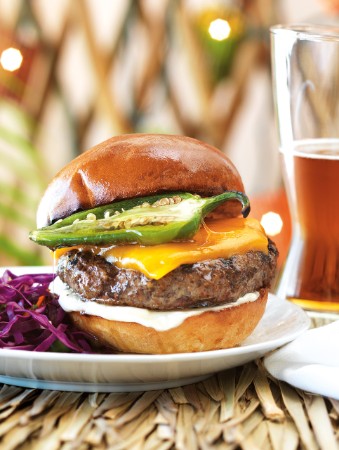 Honeyed-Jalapeño & Cumin Burgers
Summer 2013
BY: Victoria Walsh
This classic meaty burger is simply seasoned with cumin, making it the perfect base for a spicy-sweet honeyed-jalapeño topper. Enjoy this delicious burger combo on its own, but don't hesitate to add classic burger toppings such as bacon, cheese and mayo!
2 lbs (1 kg) ground beef, preferably a mix of chuck and sirloin
2 tsp (10 mL) ground cumin
1 tsp (5 mL) salt and freshly ground black pepper
3 small jalapeño peppers
1 to 2 tsp (5 to 10 mL) vegetable oil
6 hamburger buns
2 tbsp (30 mL) honey
1 Preheat barbecue grill to medium-high.

2 Meanwhile, crumble meat into a bowl. Season with cumin, salt and pepper. Gently stir to mix, then form into 6 thick patties. Slice each jalapeño in half, lengthwise. For extra fiery kick, leave jalapeño seeds and membrane in. Otherwise, cut out and discard membrane and seeds. Lightly brush all over with oil and sprinkle with a little salt.

3 Oil grill. Place burgers and jalapeño pieces skin-side down on grill. Barbecue burgers until cooked as you like, about 4 minutes per side for medium. Grill until jalapeño skin blisters, 6 to 8 minutes.When burgers are almost done, toast buns. Remove burgers to buns. Top each with a jalapeño half. Drizzle each with 1 tsp (5 mL) honey. Serve immediately.
SHARE