Honey Garlic Spareribs
Temps des Fêtes 2001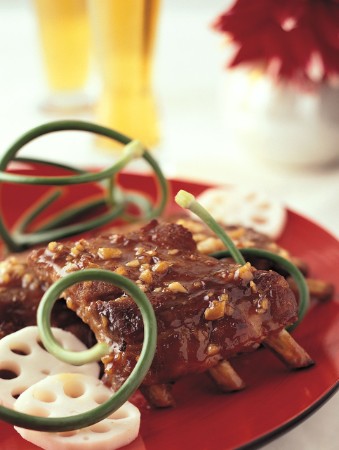 Honey Garlic Spareribs
Temps des Fêtes 2001
BY: Lucy Waverman
Back spareribs are meatier than side ones. Serve with rice and stir-fried greens.
3 lbs (1.5 kg) back spareribs
Salt and freshly ground pepper

Marinade
¼ cup (50 mL) honey
¼ cup (50 mL) rice wine vinegar
2 tbsp (25 mL) chopped garlic
1 tbsp (15 mL) grated ginger
2 tbsp (25 mL) brown sugar
3 tbsp (45 mL) hoisin sauce
1 tsp (5 mL) Asian chilli sauce
½ cup (125 mL) chicken stock or water
1. Trim spareribs and cut into racks of three ribs. Place in roasting pan. Season with salt and pepper. Combine honey, wine, vinegar, garlic, ginger, sugar, hoisin and chilli sauce and pour over spareribs. Marinate 1 hour at room temperature or up to 8 hours refrigerated, turning occasionally.

2. Preheat oven to 375°F (190°C). Remove ribs from marinade. Stir chicken stock into marinade and replace ribs.

3. Bake ribs for 1 hour or until tender, turning every 20 minutes and brushing with marinade. If the marinade in the pan becomes too dry, add more stock or water. The sauce should be thick but pourable.

4. Place ribs on platter and pour over sauce.
SHARE