Hickory-Grilled Tri-Tip with Smoky Blue-Cheese Butter
Summer 2014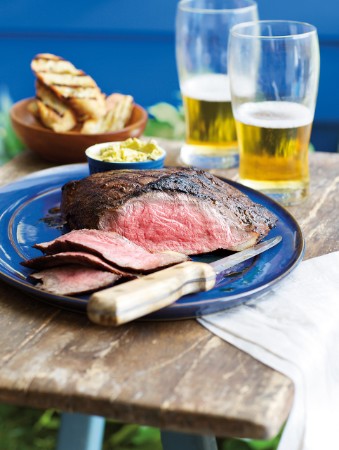 Hickory-Grilled Tri-Tip with Smoky Blue-Cheese Butter
Summer 2014
BY: Julia Aitken
The woodsy flavour of lightly smoked steak teamed with a creamy blue-cheese butter is the best of combos. Tri-tip is a triangular steak cut from the sirloin. Tender and nicely marbled, it has a rich, beefy taste and one steak serves up to eight people.
1 tbsp (15 mL) finely chopped fresh thyme leaves
1 tbsp (15 mL) olive oil
1 tbsp (15 mL) smooth Dijon mustard
1 tbsp (15 mL) balsamic vinegar
2 cloves garlic, minced
½ tsp (2 mL) sweet smoked paprika
½ tsp (2 mL) freshly ground black pepper
1 tri-tip steak, about 2 lbs (1 kg)
2 cups (500 mL) hickory wood chips,soaked in water for at least 1 hour
Kosher salt to taste

SMOKY BLUE-CHEESE BUTTER
4 oz (125 g) Gorgonzola cheese, crumbled
½ cup (125 mL) unsalted butter, softened
1 tbsp (15 mL) finely chopped parsley
½ tsp (2 mL) sweet smoked paprika
½ tsp (2 mL) minced garlic
¼ tsp (1 mL) freshly ground black pepper
Additional sweet smoked paprika for garnish
1 In a small bowl, stir together thyme, olive oil, mustard, vinegar, garlic, paprika and pepper. Rub mixture all over tri-tip. Cover and refrigerate for up to 24 hours.

2 One hour before grilling, remove tri-tip from fridge. Drain wood chips and wrap in heavy duty foil to make a long, flat parcel, sealing edges well. With a metal skewer, make holes all over top of parcel. Put parcel directly on 1 burner of barbecue. (Alternatively, follow your barbecue's instructions for using wood chips.)

3 Preheat grill to high. When wood chips are smoking (after about 20 minutes), reduce heat to medium.

4 Sprinkle tri-tip with salt to taste. Grill over burner that doesn't have the wood-chip parcel on it, with lid down and turning once, until tri-tip is well-marked with grill marks, 8 to10 minutes.

5 Turn off burner under tri-tip. Cook, with lid down, for 18 to 20 minutes for medium-rare, turning once.

6 Remove tri-tip to a cutting board, tent loosely with foil and let stand for 10 minutes.

7 Meanwhile, for blue-cheese butter, combine cheese, butter, parsley, paprika, garlic and pepper in food processor. Pulse, scraping down sides of processor once or twice, until smooth and well combined. Scrape blue-cheese butter into a 1½-cup (375-mL) serving bowl. Garnish with a sprinkling of paprika.

8 Thinly slice tri-tip across the grain. Serve with blue-cheese butter.
SHARE