Herbed Gnocchi with Fresh Garden Vegetables
Spring 2007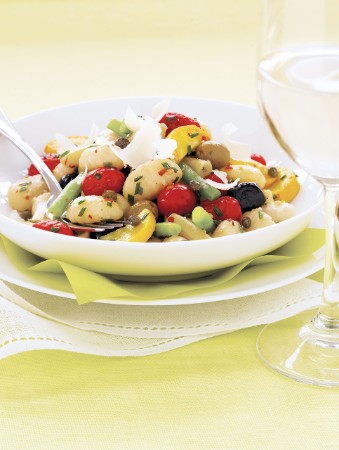 Herbed Gnocchi with Fresh Garden Vegetables
Spring 2007
BY: Heather Trim
Take advantage of store-bought gnocchi to create this colourful spring dish.
One 500 g pkg frozen potato gnocchi
1 handful green beans, trimmed
1 handful yellow beans, trimmed
2 tbsp (25 mL) olive oil
½ small yellow or green zucchini, diced
1 cup (250 mL) grape tomatoes
2 cloves garlic, minced
¼ cup (50 mL) mixed green and black olives
1 tbsp (15 mL) capers
Salt and chili flakes to taste
1/3 cup (75 mL) snipped chives, about 1 bunch
Shavings or grated Parmesan cheese



1. Bring a large pot of salted water to a boil. Remove gnocchi from freezer. When water boils add gnocchi and cook according to package directions, stirring occasionally to separate. Add beans during the last minute of cooking.

2. Meanwhile heat oil in a large wide frying pan over medium-high. Add zucchini and tomatoes and stir until softened, 3 to 4 minutes. Stir in garlic, olives, capers, salt and chili flakes to taste. Heat through. Remove from heat.

3. Drain gnocchi and beans. Add to frying pan and stir, adding chives and additional salt if needed. Serve garnished with Parmesan.
SHARE