Herb-Roasted Rutabaga Batons & Cipollini Onions
Holiday 2013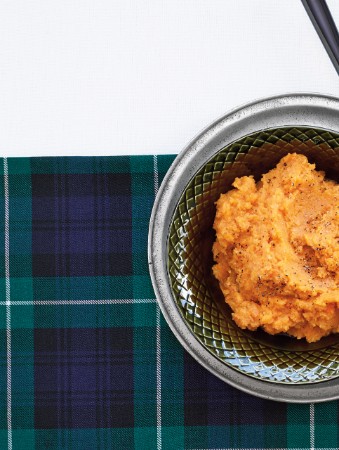 Herb-Roasted Rutabaga Batons & Cipollini Onions
Holiday 2013
BY: Jennifer MacKenzie
The humble rutabaga gets elevated to elegance with a slightly smoky herb seasoning and slow roasting along with cipollini onions that become almost buttery in this dish. You can roast it ahead, then cool, cover and refrigerate for up to 2 days, then reheat in a skillet, tossing gently, over medium heat until steaming hot. Moisten with a touch more oil if they seem dry when reheating.
1 rutabaga, about 3 lbs (1.5 kg)
10 oz (300 g) cipollini or pearl onions, peeled
2 tbsp (30 mL) olive oil
2 tbsp (30 mL) butter, cut into small pieces
2 tbsp (30 mL) cider vinegar or white wine vinegar
4 sprigs fresh thyme
2 sprigs fresh sage
1 tsp (5 mL) salt
½ tsp (2 mL) smoked paprika, or 1 tsp (5 mL) sweet paprika
½ tsp (2 mL) freshly ground pepper
1 Preheat oven to 325°F (160°C).

2 Scrub rutabaga with a brush under very warm, running water to remove some of the wax. Use a sharp vegetable peeler to remove all of the thick skin. Cut into batons, about ½ inch (1 cm) square and 2 to 3 inches (5 to 8 cm) long and place in a large shallow baking dish. Add onions and toss with olive oil, butter, vinegar, thyme, sage, salt, paprika and pepper.

3 Cover with a lid or foil and roast for about 1 hour or until starting to get tender. Uncover and roast for 30 to 45 minutes or until browned and very tender.
SHARE