Herb-Roasted Chicken with Woodland Mushroom Linguine
Spring 2014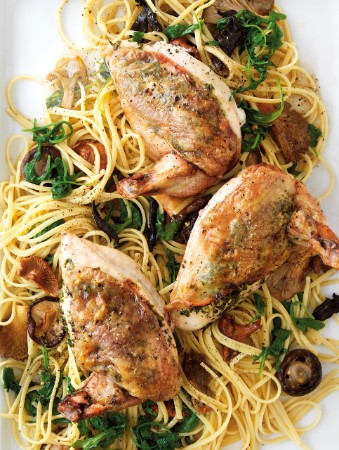 Herb-Roasted Chicken with Woodland Mushroom Linguine
Spring 2014
BY: Jennifer MacKenzie
Chicken and pasta is a standby dish for weeknights, but now you can dress up the presentation with fresh herbs, roasted mushrooms, greens and fresh pasta for dinner parties, too. If you can find chicken supremes (boneless, skin-on breasts with the wing drumette attached, which are sometimes available at butcher shops and specialty markets), they do make a handsome presentation when sliced to show off the herb layer. Regular bone-in, skin-on chicken breasts are nice served whole as well. Use a variety of wild mushrooms when they're available, or a selection of cultivated mushrooms such as shiitake, cremini and oyster mushrooms. To double the recipe, divide the chicken and mushrooms between 2 baking sheets and roast in the top and bottom thirds of the oven, switching the sheets on the racks halfway for even cooking.
2 tbsp (30 mL) butter, softened
2 tbsp (30 mL) chopped fresh parsley
2 tsp (10 mL) chopped fresh thyme
1 tsp (5 mL) chopped fresh rosemary
Salt and freshly ground pepper
4 chicken supremes or bone-in, skin-on chicken breasts
2 lbs (1 kg) mixed mushrooms, trimmed
2 tsp (10 mL) sweet paprika
3 tbsp (45 mL) olive oil
1 pkg (350 g) fresh linguine or 8 oz (250 g) dried linguine
3 cloves garlic, minced
1 pkg (142 g) baby arugula or 5 cups (1.25 L) shredded Swiss chard leaves
1 to 2 tbsp (15 to 30 mL) white wine vinegar
1 Preheat oven to 375°F (190°C).

2 Combine 1 tbsp (15 mL) butter, parsley, thyme, rosemary, ¼ tsp (1 mL) salt and pepper to taste in a small bowl. Carefully lift skin of chicken to make pockets just large enough for your fingers between the skin and the meat, starting at the narrow end of the breast, working toward the thick end. Spread herb mixture between skin and meat as evenly as possible, dividing equally between the 4 chicken breasts. Smooth skin from the top. Place chicken on a large rimmed baking sheet with space between the pieces.

3 Spread remaining 1 tbsp (15 mL) butter evenly over skin of chicken and season with salt and pepper. Combine mushrooms, paprika and 2 tbsp (30 mL) of the olive oil in a large bowl. Season with ½ tsp (2 mL) salt and pepper to taste and toss to combine. Arrange around chicken on baking sheet.

4 Roast chicken and mushrooms for about 40 minutes or until a meat thermometer in the thickest part of meat reads 170°F (77°C). Transfer chicken to a cutting board or a warmed platter and tent with foil to keep warm.

5 Meanwhile, cook pasta in a large pot of boiling, salted water according to package directions. Drain, reserving 1 cup (250 mL) of the cooking water.

6 Return pot to medium-low heat. Add remaining 1 tbsp (15 mL) oil and garlic. Cook, stirring, for 1 minute. Add mushrooms with any pan juices and arugula. Stir until arugula is wilted. Add pasta and toss to coat, adding enough of the reserved cooking water to moisten as desired. Season to taste with vinegar, salt and pepper.

7 Divide pasta and vegetables among warmed pasta bowls or plates. Slice chicken supremes on an angle, if desired, or serve bone-in breasts whole, and arrange on top of pasta.
SHARE