Heirloom Tomato Platter with Herb Oil
Automne 2018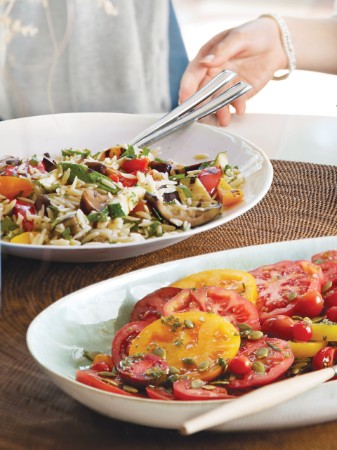 Heirloom Tomato Platter with Herb Oil
Automne 2018
BY: Jennifer MacKenzie
This is one of those dishes that is so simple to put together yet packed with flavour, and it looks fabulous! If you're invited to a potluck and you don't cook, this is the recipe for you (though friends won't believe you "don't cook" once they try it). It's also a super dish to have in your proverbial back pocket to fill out a menu of more complicated dishes, because you can put it together in just a few minutes. The cold-pressed sunflower oil or pumpkin seed oil adds a nutty taste and is perfectly accented by the toasted seeds at the end. Buy the tomatoes a few days ahead to make sure they're perfectly ripe, and choose a mixture of colours, sizes and flavours of heirlooms to really make a splash.
⅓ cup (80 mL) cold-pressed sunflower oil or pumpkin seed oil
8 fresh chives, torn in half
½ cup (125 mL) packed fresh basil
1 tsp (5 mL) fresh rosemary leaves
1 small clove garlic
Salt and freshly ground pepper
8 to 12 heirloom tomatoes and/or 1 to 2 cups (250 to 500 mL) cherry or mini tomatoes
1 tbsp (15 mL) toasted sunflower seeds or green pumpkin seeds
Flaky salt
1. Combine oil, chives, basil, rosemary, garlic and ½ tsp (2 mL) each salt and pepper in a mini-chopper or blender. Purée until fairly smooth. Use immediately or cover and let stand at room temperature for up to 4 hours, or refrigerate for up to 1 day. For a clear oil, let stand for at least 4 hours, then strain through a fine-mesh sieve.

2. Let oil warm to room temperature if chilled. Cut tomatoes crosswise into thick slices, if large, or cut in half crosswise if small. Mini tomatoes can be left whole. Arrange decoratively on a platter. Drizzle with herb oil and sprinkle with toasted seeds and flaky salt.
SHARE