Heirloom Tomato Caper Salad
Spring 2012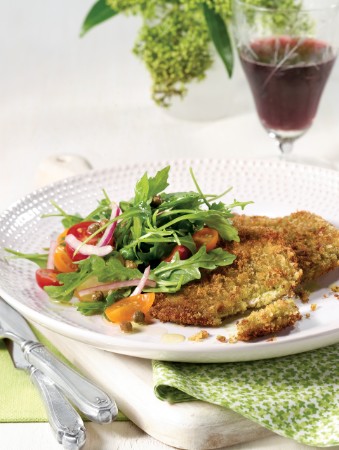 Heirloom Tomato Caper Salad
Spring 2012
BY: Monda Rosenberg
What could be more natural than pairing juicy baby tomatoes with salty capers, then brightening up with tangy-sweet balsamic. Handfuls of forest green arugula, tossed in at the last minute, round out the flavour profile with a burst of peppery taste.
3 cups (750 mL) heirloom cherry tomatoes, preferably a mix of colours
3 thin slices of red onion
2 tbsp (30 mL) drained capers
2 tbsp (30 mL) olive oil
2 tbsp (30 mL) white balsamic vinegar
½ tsp (2 mL) sugar
Generous pinches of salt
3 cups (750 mL) arugula
¼ cup (60 mL) shredded fresh mint or basil leaves or a mix
1 Halve, quarter or roughly slice tomatoes. Place in a bowl. Cut onion slices into quarters, then separate pieces. Add to tomatoes along with capers, oil, vinegar, sugar and salt. Gently toss to coat. Taste and add more sugar or salt if needed. Serve right away or leave at room temperature up to 4 hours. It may water out a little as it sits.

2 Just before serving, stir in the arugula and mint.

SHARE