Hazelnut-Crusted Pork Tenderloin
Début de l'été 2013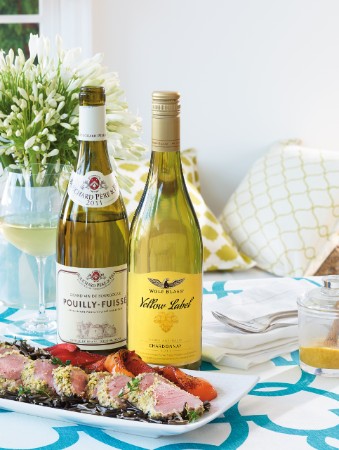 Hazelnut-Crusted Pork Tenderloin
Début de l'été 2013
BY: Julia Aitken
Simple enough for everyday, classy enough for company, this is the perfect keeper of a recipe. Serve with sautéed potatoes or wild rice and grilled vegetables.
1 pork tenderloin, 1 lb (500 g)
½ cup (125 mL) hazelnuts
¼ cup (60 mL) panko bread crumbs
2 tbsp (30 mL) chopped parsley
1 tbsp (15 mL) honey mustard
1 tbsp (15 mL) mayonnaise
1 tsp (5 mL) minced fresh thyme
½ tsp (2 mL) finely grated orange zest
Kosher salt and freshly ground black pepper to taste
Fresh thyme for garnish
Honey mustard to serve (optional)
1 Thirty minutes before roasting, remove tenderloin from refrigerator.

2 Preheat oven to 350°F (180°C).

3 Spread out hazelnuts on a rimmed baking sheet and roast until golden brown and fragrant, about 7 minutes, shaking baking sheet once or twice. Wrap hazelnuts in a clean towel and rub vigorously through towel to loosen skins (don't worry if some skins adhere to nuts). Discard skins and let nuts cool.

4 Increase oven temperature to 425°F (220°C).

5 Pulse hazelnuts in a food processor until coarsely chopped. Add panko and parsley and pulse until finely chopped. Tip hazelnut mixture out onto a large plate. Set aside.

6 In a small bowl, combine mustard, mayonnaise, thyme and orange zest.

7 Trim any excess fat and silver skin from tenderloin, then season with salt and pepper to taste. Spread mustard mixture all over tenderloin. Carefully roll tenderloin in hazelnut mixture to coat completely.

8 Transfer tenderloin to a small rimmed baking sheet, tucking thinner end under. Roast until a meat thermometer inserted in thickest part of tenderloin registers 145°F (63°C), 18 to 20 minutes.

9 Remove tenderloin to a cutting board, cover loosely with foil and let stand for 10 minutes. Slice tenderloin thickly on the diagonal and fan slices out on dinner plates. Garnish with fresh thyme and serve with honey mustard, if desired.
SHARE