Hazelnut-Coated Pork Chops with Cream Sauce
Early Summer 2009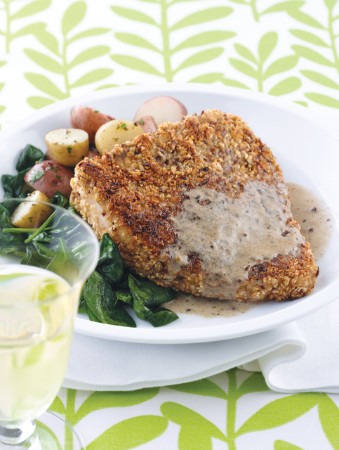 Hazelnut-Coated Pork Chops with Cream Sauce
Early Summer 2009
BY: Jennifer McLagan
Here ground hazelnuts are used instead of crumbs and the nutty flavour matches well with the cream sauce. Serve these chops with lightly sautéed spinach or watercress and some steamed new potatoes.
4 bone-in pork chops, 3⁄4 inch (2 cm) thick
Sea salt and freshly ground black pepper
2 tbsp (25 mL) flour
1 egg, beaten
1 cup (250 mL) lightly toasted ground hazelnuts
1 tbsp (15 mL) unsalted butter
1 tbsp (15 mL) olive oil
1⁄2 cup (125 mL) homemade or low-salt chicken stock
3⁄4 cup (175 mL) whipping cream
1. Preheat the oven to 200°F (100°C).

2. Season chops lightly with salt and pepper and dredge in the flour, shaking off the excess. Dip the chops in the beaten egg. Coat with the ground hazelnuts.

3. Put the butter and oil in a frying pan over medium heat. When hot, add the pork chops and cook 4 to 5 minutes per side or until just cooked through. Transfer the chops to a serving platter, cover with foil and place in the oven. Turn the oven off.

4. Pour the stock into the pan and deglaze by scraping up the browned bits from the bottom of the pan with a wooden spoon. Increase the heat to high and add the cream. Boil until the sauce is reduced and thickened, about 5 minutes, and then check the seasoning.

5. Spoon sauce over chops and serve.
SHARE