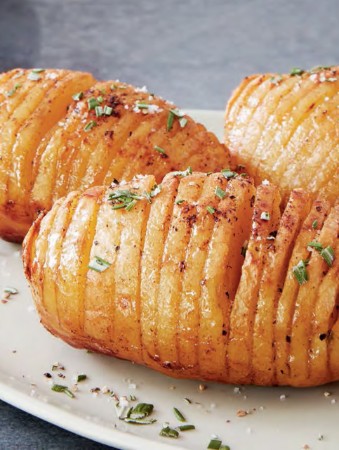 BY: Marilyn Bentz-Crowley
These potatoes are quite dramatic in presentation. Don't be tempted to use unpeeled potatoes, as they won't become truly crispy, which is the point of all the slits.
6 medium to large potatoes, such as starchy baking or all-purpose yellow
3 tbsp (45 mL) butter
3 tbsp (45 mL) olive oil
1 large garlic clove, crushed but intact
½ tsp (2 mL) salt
Several grindings of black pepper
1 Peel potatoes and place each between 2 wooden spoon handles, about ⅓ inch (8 mm) in diameter. Cut slits closely together down to spoon handles, but not through potato bottom. Rinse under cold running water, fanning slits slightly to wash out starch. Submerge in cold water; repeat as needed. (Potatoes submerged in water can remain at room temperature for several hours.)

2 Preheat oven to 425°F (220°C).

3 Drain potatoes, cut-side down, on a tea towel while heating butter, oil and garlic over medium heat in a heavy or cast iron 8- or 9-inch(20- or 23-cm) skillet capable of going into the oven.

4 Remove and discard garlic when it is golden. Place potatoes cut-side up in hot fat. Spoon some of fat in pan over slits. Sauté for 5 minutes; turn cut-side down for 5 minutes. Then turn slit-side up; brush with some of the fat in the pan. Season with salt and pepper.

5 Bake 45 to 60 minutes, basting with fat in pan every 15 minutes. Potatoes are done when golden brown and crispy and a skewer insertseasily into the centre of the potato. Serve immediately.
SHARE