Hash with Chorizo & Fried Eggs
Winter 2012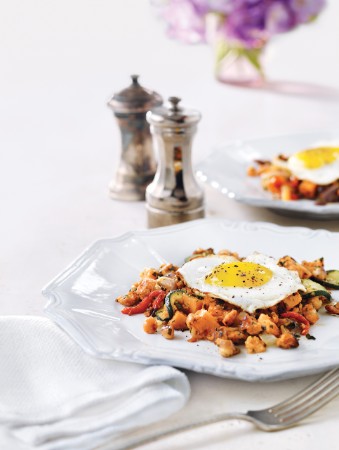 Hash with Chorizo & Fried Eggs
Winter 2012
BY: LeeAnne Wright
For cold winter nights when you want pure comfort, eat breakfast for dinner! This colourful hash is mostly based on pantry staples so pick up some sausages on your way home and you are almost ready to go. Spanish-style chorizo sausages are filled with a spicy pork mixture and come both fresh and cured. Make sure you pick up the fresh variety for this recipe.
2 medium sweet potatoes, about 1 lb (500 g)
1 tbsp (15 mL) olive oil
4 fresh chorizo sausages, casings removed, about 14 oz (425 g)
1 small red onion, thinly sliced, about 1 cup (250 mL)
1 small zucchini, trimmed and thinly sliced, about 1 cup (250 mL)
⅔ cup (150 mL) thinly sliced roasted red pepper
1 cup (250 mL) rinsed and drained canned chickpeas
Salt and freshly ground pepper
¼ cup (60 mL) finely chopped parsley
1 tbsp (15 mL) unsalted butter
4 to 6 large eggs
1 Preheat oven to 400°F (200°C).

2 Prick sweet potato and bake for 40 minutes or until sweet potato is still firm to the touch but a knife can glide through when tested. Let cool; peel and dice.

3 Heat oil in a 12-inch (30-cm) nonstick skillet over medium-high heat. Crumble in sausage and fry about 7 minutes or until sausage is getting crispy and no longer pink.

4 Add onion, zucchini, roasted red peppers, chickpeas and sweet potato; cook for 3 minutes.Season with salt, pepper and stir in parsley. Press mixture into pan with spatula and cook for a further 5 minutes, without stirring, until crisp and golden on the bottom. Adjust heat if browning too quickly.

5 Serve out each portion of hash, wipe out pan, and then return pan to heat. Add butter, and when it has stopped foaming, fry eggs sunny side up until whites are set and crisp around the edges, about 3 minutes. Season eggs with salt and pepper and serve on top of hash.
SHARE