Dry Fried Green Beans
Holiday 2008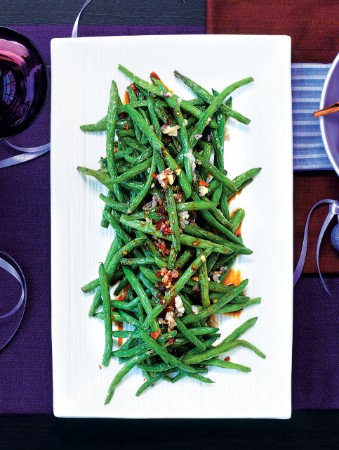 Dry Fried Green Beans
Holiday 2008
BY: Lucy Waverman
This dish can be prepared ahead of time and reheated when needed. The beans are deep-fried so that they can absorb the spicy sauce that goes with them. These are addictive and a perfect foil for the turkey.
2 tsp (10 mL) minced ginger
¼ cup (50 mL) minced shallots
2 tsp (10 mL) minced garlic

Sauce
2 tsp (10 mL) sugar
2 tsp (10 mL) Asian chili sauce or to taste
2 tbsp (25 mL) soy sauce
2 tbsp (25 mL) rice wine or dry sherry
1 tsp (5 mL) sesame oil

Oil for deep-frying
2 lb (1 kg) green beans, topped and tailed
2 tsp (10 mL) balsamic vinegar
Salt to taste
1. Combine ginger, shallots and garlic. Set aside.

2. Mix together sugar, chili sauce, soy sauce, rice wine and sesame oil. Set aside.

3. Heat a wok or deep skillet over high heat and add about 2 cups (500 mL) oil. Heat to about 375ºF (190ºC) or until a piece of bread browns in 15 seconds.

4. Working in batches, add beans and fry until crisp and wrinkled, about 5 to 6 minutes. Place a strainer over a bowl and carefully pour the oil and beans into strainer. Let sit to drip until cool.

5. Add 2 tbsp (25 mL) oil back into wok over high heat. When oil is hot, add ginger mixture and stir-fry for 30 seconds. Add beans and sauce and cook until beans are coated with sauce. Drizzle in vinegar, season with salt to taste and serve.
SHARE