Green Beans with Shiitakes & Onions
Temps des Fêtes 2009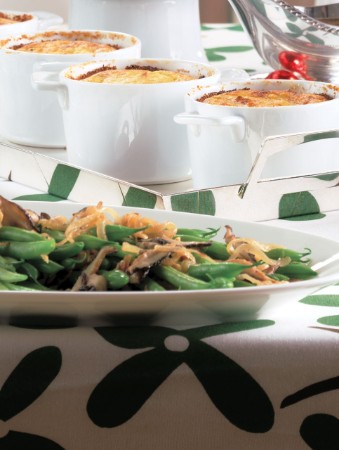 Green Beans with Shiitakes & Onions
Temps des Fêtes 2009
BY: Jennifer MacKenzie
Mushrooms, onions, a splash of wine and toasted hazelnuts elevate the humble green bean to something special. The beans stay vibrant and tender-crisp if blanched ahead and chilled and then given a quick sauté just before serving. You can blanch them earlier in the day or even a day ahead.
1 lb (500 g) green beans, trimmed
Salt
½ cup (125 mL) hazelnuts
1 tbsp (15 mL) butter
1 tbsp (15 mL) olive oil
4 oz (125 g) shiitake mushrooms, stems removed, caps sliced
1 onion, halved lengthwise and thinly sliced
Freshly ground pepper
¼ cup (50 mL) dry white wine
1. Blanch green beans in a pot of boiling salted water for about 3 minutes or until bright green. Drain and rinse under cool running water until cold. Drain well. Transfer to a bowl. Set aside until serving or cover and refrigerate for up to 1 day.

2. Preheat oven to 375°F (190°C).

3. Spread hazelnuts on a baking sheet. Bake for about 8 minutes or until fragrant and skins start to crack. Transfer to a towel and rub off skins. Coarsely chop nuts and set aside.

4. Just before serving, heat butter and oil over medium-high heat in a large skillet. Sauté mushrooms, onion and ¼ tsp (1 mL) each salt and pepper for about 5 minutes or until golden brown. Add wine and boil, stirring, until almost evaporated. Add green beans and ¼ cup (50 mL) water and sauté for about 5 minutes or until beans are tender-crisp and liquid is evaporated. Stir in hazelnuts. Season with salt and pepper to taste. Transfer to a warmed serving dish.
SHARE