Green Bean Curry
Temps des Fêtes 2000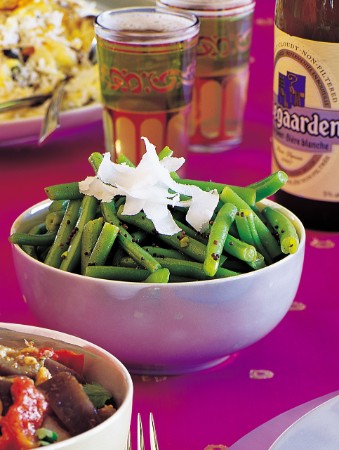 Green Bean Curry
Temps des Fêtes 2000
BY: Lucy Waverman
The crisp texture of the beans provides the contrast for the eggplant curry as well as a lovely colour on the plate.
1-1/2 lbs (750 mL) green beans, topped and tailed
2 tbsp (25 mL) vegetable oil
1 tsp (5 mL) black mustard seeds
1 tsp (5 mL) curry paste
Salt and freshly ground pepper
1/3 cup (75 mL) grated coconut
1 tsp (5 mL) lemon juice
1. Cut beans into 2-inch (5-cm) lengths. Heat oil in skillet over medium heat. Add mustard seeds and as they begin to pop stir in curry paste. Cook 1 minute, add green beans and about 3 cups (750 mL) water, just enough to cover beans.

2. Bring to boil, reduce heat and simmer covered for 5 minutes. Remove cover, drain water leaving 1/4 cup (50 mL) and season with salt and pepper. Sprinkle in coconut and lemon juice.
SHARE