The Perfect Burger
Summer 2017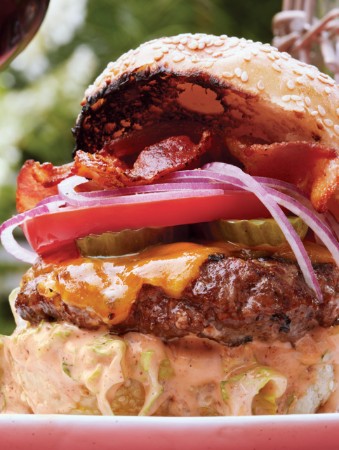 The Perfect Burger
Summer 2017
BY: Christopher St. Onge
A good burger patty should taste like beef and its juices should run when given a squeeze. Having the right beef and optimal amount of fat is key. Well-marbled chuck is a great place to start—adding ground aged rib-eye takes things to a whole other level. The sauce strikes just the right balance between sweet, salty, spicy and crunchy.
SIGNATURE SAUCE
2 tbsp (30 mL) ketchup
½ tsp (2 mL) marmite
1 tsp (5 mL) Worcestershire sauce
½ cup (125 mL) mayonnaise
1 tbsp (15 mL) grape-seed or sunflower oil
½ tsp (2 mL) ground dried chipotle
1 cup (250 mL) chopped little gem or iceberg lettuce

1 lb (500 g) ground beef chuck
8 oz (250 g) well-aged rib-eye, ground
Salt and freshly ground black pepper
1. For the sauce, stir together the ketchup, marmite and Worcestershire sauce until marmite is dissolved; whisk in mayonnaise, oil and chipotle. Refrigerate until you're ready to light your grill.

2. For burgers, combine ground chuck and rib-eye. Divide into 4 patties roughly 4 inches (10 cm) across, being mindful not to compact them too much (patties will be quite thick).

3. Preheat grill to 450°F (230°C).

4 Stir lettuce into burger sauce. Season patties generously with salt and pepper and cook for 4 minutes per side for medium.
Makes enough sauce and patties for 4 burgers
SHARE