Ham with Demerara Dijon Glaze and Parsley Cream Sauce
Temps des Fêtes 2008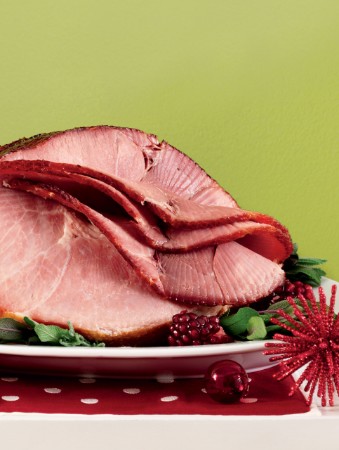 Ham with Demerara Dijon Glaze and Parsley Cream Sauce
Temps des Fêtes 2008
BY: Marilyn Bentz-Crowley
A bone enhances flavour considerably so opt for a bone-in ham instead of boneless. The rounded butt-end half is meatier but harder to slice than the conical shank half. If a glaze packet comes with the ham, discard it!
Ham & Glaze
9 lb (approx. 4 kg) bone-in, fully-cooked ham half, preferably spiral-sliced
2 to 3 cups (500 to 750 mL) water
½ cup (125 mL) demerara or dark brown sugar
2 tbsp (25 mL) Dijon mustard
½ cup (125 mL) dry white wine

Parsley Cream Sauce
3 tbsp (45 mL) unsalted butter
1 large shallot, finely chopped
½ cup (125 mL) all-purpose flour
Pan drippings and water
1 tbsp (15 mL) Dijon mustard
1 bay leaf
1 cup (250 mL) whipping cream
1 cup (250 mL) finely chopped fresh parsley
Several grindings of black pepper
1. Preheat oven to 325ºF (160ºC).

2. Unwrap ham; remove and discard plastic disc over bone end, if present. Place a rack into a large flat pan with deep sides; pour enough water into pan for a depth of about ½ inch (1 cm), but not deep enough to touch ham on rack. Place ham, cut-side down, on rack; drizzle with any juices in packaging. Cut a piece of foil large enough to cover ham; loosely mould over ham. Bake 2½ to 3 hours.

3. Meanwhile, for glaze, stir sugar with Dijon and wine in a small saucepan. Bring to a boil over medium heat; boil gently 12 to 15 minutes or until reduced by half and somewhat thick and glossy. Remove from heat; set aside.

4. Remove ham from oven. Pour in additional water if bottom of pan is dry.

5. Increase oven temperature to 425ºF (220ºC).

6. Brush ham with glaze; return to oven, uncovered. Bake 15 minutes; transfer ham to serving platter or cutting board. Cover loosely with foil and let rest while making sauce.

7. Use pan liquid for sauce; pour into a measuring cup and skim off as much fat as possible. Add enough water so liquid measures 3 cups (750 mL).

8. Melt butter in a large saucepan over medium heat until bubbly. Add shallot; cook 2 minutes. Sprinkle in flour, stir and cook 2 to 3 minutes. Whisk in above liquid, mustard and bay leaf. Bring to a boil, reduce heat and simmer 5 minutes. Stir in cream and parsley; remove and discard bay leaf. Pour into a warmed serving pitcher or gravy bowl with small ladle.

9. Using a long thin-bladed knife, circle centre bone to loosen slices; leave slices in place. Or thinly slice ham, laying slices on a warmed serving platter. Let guest drizzle slices on their plates with parsley sauce.
SHARE