Ham & Onion Soup Gratinée
Temps des Fêtes 2016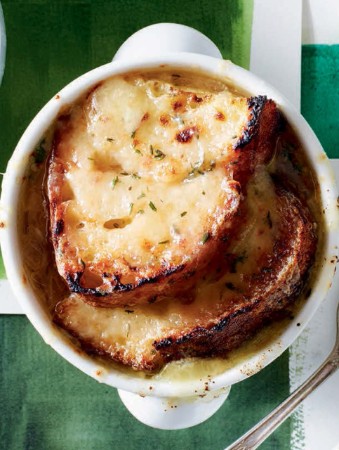 Ham & Onion Soup Gratinée
Temps des Fêtes 2016
BY: Christopher St. Onge
Onion soup is one of my favourite cold-weather noshes and this one is my new favourite version. Instead of being made with chicken or beef stock, it's made with smoky ham and kielbasa-enriched broth. Using sweet onions plays beautifully on the ham's saltiness and a touch of bourbon stands in for the usual Cognac.
8 cups (2 L) water
1½ lbs (750 g) smoked ham hock
5 oz (150 g) piece kielbasa, peeled if necessary
1 bay leaf
1 sprig thyme plus 1 tsp (5 mL), chopped, divided
10 peppercorns
3 large sweet onions, about 3 lbs (1.5 kg) total weight
¼ cup (60 mL) butter
2 tbsp (30 mL) flour
¼ cup (60 mL) bourbon
Salt and freshly ground black pepper
6 slices sourdough bread, each 1 inch (2.5 cm) thick, lightly toasted
1 lb (500 g) coarsely grated Gruyère or maple cheddar
1 Combine water, ham hock, kielbasa, bay leaf, thyme sprig and peppercorns in a large pot; do not season with salt at this time. Bring to a boil, reduce to low, cover and simmer for 3 hours. Remove ham and kielbasa; reserve ham. Discard kielbasa. Strain stock; if continuing with soup immediately, return stock to pot and skim o  as much fat as possible, otherwise refrigerate stock and de-fat before continuing (stock may be made up to 5 days in advance).

2 When cool enough to handle, remove and discard skin from ham hock. Trim meat of as much fat as possible and break ham into small bite-sized chunks; set aside (refrigerate alongside stock if preparing ahead).

3 Peel and thinly slice onions. Melt butter in a large skillet over medium, add onions and sauté for 15 minutes, stirring frequently, until softened but not yet brown. Reduce to low and cook 30 minutes longer, stirring from time to time, until deeply golden. Sprinkle with flour; stir to combine. Add to stock along with ham and bourbon.

4 Return stock to a simmer over medium heat and cook for 10 minutes to temper the bitterness of the alcohol. Season to taste with salt and pepper. Divide between 6 ovenproof bowls. Top each with a piece of sourdough, cutting to fi t if necessary. Divide cheese between bowls and sprinkle each with an equal amount of remaining 1 tsp (5 mL) chopped thyme. Arrange on a baking sheet and broil until cheese is  bubbling and golden, 2 to 4 minutes.
SHARE