Halibut Koftesi & Dilled Fava Spread
Early Summer 2021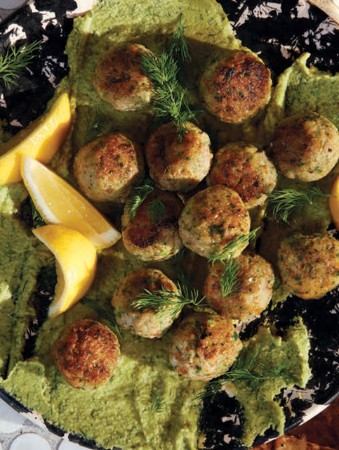 Halibut Koftesi & Dilled Fava Spread
Early Summer 2021
BY: Christopher St. Onge
Koftesi is the word for meatballs in Turkey, and in Istanbul, a city literally surrounded by water, it's a thing to serve fish in forms usually reserved for meat. So here's mine—meatballs, but fishballs. Be careful not to overprocess the fish. You want small chunks of fish that barely stick together when forming the balls. Serve them with torn flatbread: It's a known fact that food scooped up between layers of soft bread held between your fingers tastes better than anything eaten with a fork.

DILLED FAVA SPREAD
1/3 cup (80 mL) olive oil
6 cloves garlic, divided
2 cups (500 mL) shelled, cooked and skinned fava beans (see TIP)
1/4 cup (60 mL) roughly chopped fresh dill
1 tbsp (15 mL) lemon juice
1/2 tsp (2 mL) ground cumin
Salt and freshly ground black pepper to taste

HALIBUT KOFTESI
1/2 cup (125 mL) water
1/4 cup (60 mL) bulgur
1 tbsp (15 mL) olive oil, plus extra for frying
1 1/4 tsp (6 mL) salt, divided
2 cloves garlic, finely grated
4 green onions, white and light green parts only, roughly chopped
1/2 cup (125 mL) packed fresh cilantro leaves and stems
Finely grated zest of 1 lemon
3/4 tsp (4 mL) ground cinnamon
1/2 tsp (2 mL) ground coriander seed
Freshly ground black pepper
1 lb (455 g) halibut fillet, roughly chopped
Fresh dill and/or cilantro for garnish
Lemon wedges for garnish
1. For the fava spread, heat olive oil in a small pot over low heat. Add 5 cloves garlic and cook, turning from time to time, until golden all over, 12 to 15 minutes. Remove from heat and let cool completely.

2. Add oil, cooked garlic and remaining clove raw garlic to a food processor, along with fava beans, dill, lemon juice and cumin. Process until smooth. Season to taste with salt and pepper. Spread can be made up to 3 days ahead, topped with a thin layer of olive oil, covered and refrigerated until ready to serve

3. For the koftesi, bring the water to a boil in a small pot. Immediately add bulgur, 1 tbsp (15 mL) olive oil and 1/2 tsp (2 mL) salt. Stir to combine, cover, remove from heat and let stand for 30 minutes. Remove lid and let cool completely.

4. Add bulgur mixture to a food processor along with garlic, green onions, cilantro and lemon zest. Pulse until onions and cilantro are finely chopped. Add cinnamon, coriander, a generous grinding of black pepper, fish and remaining 3/4 tsp (4 mL) salt. Pulse, scraping down sides as necessary until fish is chopped (and not a paste) and mixture just begins to clump together. Using wet hands and 2 tbsp (30 mL) mixture, roll into a ball. Repeat with the remaining mixture to create 16 balls.

5. Coat bottom of a large nonstick frying pan with oil and set over medium heat. Fry koftesi, turning from time to time, until lightly golden and opaque in centre, 10 to 12 minutes.

6. Cover the bottom of a large platter with fava spread and top with warm koftesi. Garnish with dill and/or cilantro and a few lemon wedges.
TIP You'll need about 5 lbs (2.2 kg) fresh fava beans in their pods to yield 2 cups (500 mL) shelled and peeled beans. If you prefer to use frozen beans, they are usually sold shelled but not peeled. You can use them this way, as the skin that surrounds each bean is edible, but if you prefer a gorgeous bright green spread, remove the army-green skin from each bean after cooking briefly in boiling water. 1 lb (455 g) frozen, shelled fava beans will yield 2 cups (500 mL) peeled.
SHARE