Halibut Coulibiac
Temps des Fêtes 2013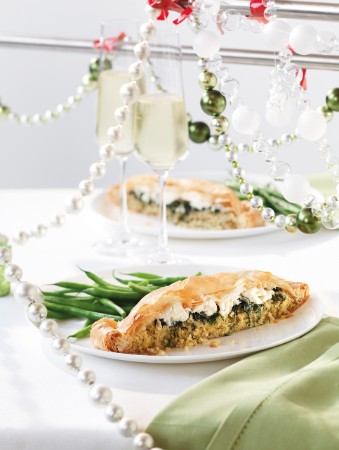 Halibut Coulibiac
Temps des Fêtes 2013
BY: Emily Richards
This new spin on a classic dish includes quinoa and halibut to change up the traditional salmon and rice. A spectacular presentation for the table to serve during the holidays, this can be cut in small pieces to feed a crowd or larger portions for an amazing dinner with friends.
QUINOA FILLING
1 cup (250 mL) quinoa, rinsed
1¾ cups (425 mL) vegetable broth
1 clove garlic, minced
3 tbsp (45 mL) chopped fresh dill
1 tsp (5 mL) grated lemon rind

1½ cups (375 mL) dry white wine
1 large clove garlic, slivered
1 sprig of fresh thyme
1 lb (500 g) fresh halibut fillet, skinned
1 cup (250 mL) 35% whipping cream
Pinch each salt and pepper
2 tbsp (30 mL) butter
2 shallots, finely chopped
1 tsp (5 mL) chopped fresh thyme
1 container (312 g) baby spinach
8 sheets phyllo pastry
½ cup (125 mL) butter, melted
1 For the quinoa filling, toast quinoa over medium-high heat, stirring, in a dry nonstick skillet for about 3 minutes or until it starts to pop and turn golden. Add broth and garlic; bring to the boil. Reduce heat to a simmer; cover and cook for about 15 minutes or until liquid is absorbed. Remove from heat and fluff with a fork. Stir in dill and lemon rind; set aside.

2 Bring wine, garlic and thyme to a gentle boil in a large shallow saucepan. Add halibut; cover and simmer for about 10 minutes or until firm and opaque. Remove fillet to plate and let cool. Add cream to saucepan and boil gently for about 3 minutes or until slightly thickened. Remove thyme sprig, and season with salt and pepper.

3 Melt butter in large nonstick skillet and cook shallots and thyme over medium heat for about 3 minutes or until softened. Add spinach and cook, stirring for about 5 minutes or until wilted. Remove from heat.

4 Preheat oven to 400°F (200°C).

5 Lay 1 sheet of phyllo on parchment-paper-lined baking sheet and brush with butter. Repeat with another 3 sheets of phyllo.

6 Spread quinoa mixture over phyllo leaving 3-inch (8-cm) edge on all sides. Spoon over half of the wine sauce. Spread spinach mixture overtop to cover. Break up halibut fillets overtop in large chunks and spoon over remaining wine sauce.

7 Brush 1 sheet of phyllo with butter and place over halibut. Repeat with remaining phyllo sheets. Gently roll up edges of phyllo towards the centre. Brush with butter and bake in preheated oven for about 20 minutes or until phyllo is golden brown and knife is hot when inserted in centre. Let stand for 10 minutes before serving.
SHARE