Guilt-Free Hot Wings
Début de l'été 2014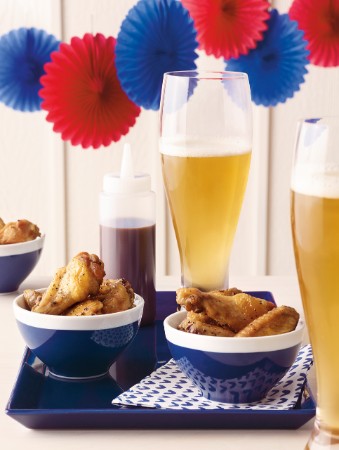 Guilt-Free Hot Wings
Début de l'été 2014
BY: Lucy Waverman
Because of the fat content of chicken wings, here the marinade and the dipping sauce are kept as fat-free as possible without sacrificing any taste. The wings are simmered in stock to remove more fat.
2 cups (500 mL) chicken stock
¼ cup (60 mL) white wine
2 large cloves garlic, peeled and roughly chopped
2 lbs (1 kg) chicken wings, wing tip discarded, cut in half
Salt and freshly ground pepper

DIPPING SAUCE
¼ cup (60 mL) balsamic vinegar
2 tbsp (30 mL) Dijon mustard
2 tbsp (30 mL) honey
2 tsp (10 mL) hot pepper sauce or to taste
1 tbsp (15 mL) olive oil
Salt and freshly ground pepper
1 Preheat oven to 450°F (230°C).

2 Combine chicken stock, white wine and garlic in a pot over high heat. Bring to a boil and add wings. Turn heat to medium and simmer wings, stirring occasionally for 8 to 10 minutes or until chicken is almost cooked.

3 Drain chicken wings and place, skin-side up, on a parchment-lined baking sheet. Sprinkle with salt and pepper. Bake 20 to 25 minutes, turning once, or until wings are golden brown and cooked through.

4 While chicken wings are baking, combine vinegar, mustard, honey, hot pepper sauce and oil. Season with salt and pepper. Serve as a dip for wings if desired.

TIP Wings can be made ahead of time and reheated in a hot 400°F (200°C) oven for 10 minutes.
SHARE