Grilled Zucchini Pepper Wraps with Lemon-Grass Aïoli
Summer 2011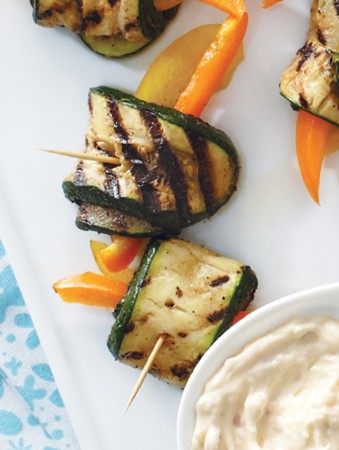 Grilled Zucchini Pepper Wraps with Lemon-Grass Aïoli
Summer 2011
BY: Jennifer MacKenzie
These appetizers start the meal off with the fresh burst of lightly grilled zucchini, sweet peppers and a zesty aïoli. If you have narrow glasses, you can perch two or three wraps inside and place the glasses on the platter for each guest, or just place the wraps directly on the platter and set out side plates. For a more substantial appetizer, grill 18 medium-size shrimp and cut in half lengthwise, then place a piece of shrimp with peppers before wrapping with zucchini. Be sure to make the aïoli ahead to maximize the flavor.
AÏOLI
2 stalks lemon grass
2 tbsp (30 mL) vegetable oil
1 clove garlic, minced
½ cup (125 mL) mayonnaise
Salt and freshly ground pepper to taste

WRAPS
4 medium zucchini, each about 7 x 1¾ inches (18 x 4.5 cm)
3 tbsp (45 mL) vegetable oil
2 tsp (10 mL) ground coriander
½ tsp (2 mL) salt
¼ tsp (1 mL) cayenne pepper
36 thin strips each sweet orange and yellow pepper (each about 2 inches/5 cm long)
1 For the aïoli, cut lemon-grass stalks in half lengthwise. Trim out tender inner hearts and the tenderest inner layers. Reserve remaining lemon grass for another use. Finely mince hearts and enough of the tender layers to make about 2 tbsp (30 mL).

2 In a small skillet, heat oil over medium-low heat. Sauté minced lemon grass and garlic for about 3 minutes or until softened but not browned. Transfer to a heatproof bowl and let cool. Whisk in mayonnaise until blended. Season to taste with salt and pepper. Cover and refrigerate for at least 4 hours to blend the flavours or for up to 2 days.

3 For the wraps, heat barbecue to medium.

4 Trim ends from zucchini. Cut lengthwise into thin slices, about ⅛ inch (3 mm) thick, until you have 36 slices. In a shallow dish, combine oil, coriander, salt and cayenne. Add zucchini and rub or brush to coat evenly with spices. Grill, turning once, for 2 to 3minutes per side, or until grill-marked and tender (do not let crisp). Return to shallow dish and let cool to room temperature.

5 To assemble, hold 1 strip orange pepper and 1 strip yellow pepper together. Wrap 1slice of zucchini horizontally around peppers, with peppers sticking above the top edge of zucchini. Secure with a toothpick and place on a platter; gently separate pepper strips so they point in opposite directions. Repeat to make about 36 wraps. (Platter can be wrapped and refrigerated for up to 4 hours; let wraps warm to room temperature before serving).

6 To serve, place bowl of aïoli on platter along with a small spoon to dollop on top of wraps.
SHARE