Grilled Zucchini & Buffalo Mozzarella Salad
Autumn 2018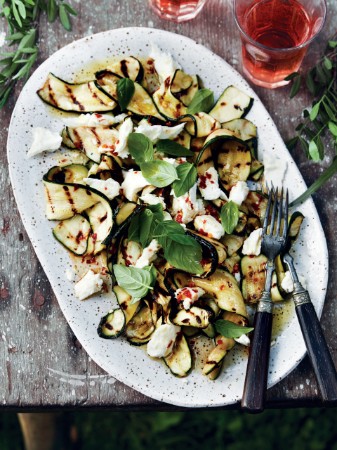 Grilled Zucchini & Buffalo Mozzarella Salad
Autumn 2018
BY: Christopher St. Onge
Ontario has a fine buffalo mozzarella made by Bella Casara in Woodbridge. It is full flavoured, a perfect foil for the grilled zucchini. This salad is pretty as well as tasty and can be served warm or at room temperature.
6 small zucchini, each about 6 inches (15 cm) long ¼ cup (60 mL) extra virgin olive oil, plus extra for grilling
½ tsp (2 mL) dried chili flakes
1 tbsp (15 mL) lemon juice
1 tsp (5 mL) lemon zest
Salt and freshly ground pepper
1 ball (150 g) buffalo mozzarella
Handful of fresh basil leaves
1. Trim the stem end of the zucchini and slice each lengthwise into several thin slices. Toss the cut zucchini with just enough olive oil to lightly coat, and grill over high heat until softened and lightly charred, about 2 minutes per side. Remove to a shallow serving platter.

2. To make the dressing, combine 1/4 cup (60 mL) olive oil, chili flakes, lemon juice and zest, and season to taste with salt and pepper.

3. Using your fingers, tear mozzarella into small bite-size pieces and scatter over the grilled zucchini. Spoon dressing over the salad, lightly toss, and top with a handful of fresh basil leaves.
SHARE