Grilled Vegetable Peanut Noodles
Été 2009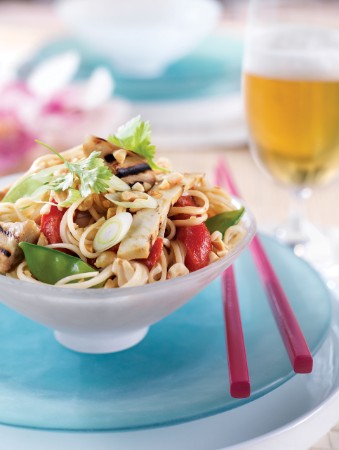 Grilled Vegetable Peanut Noodles
Été 2009
BY: Eshun Mott
Loaded with grilled vegetables and tofu, this recipe makes a generous platter of savoury vegetarian noodles. Calling for grated garlic may seem unusual, but a microplane grater or rasp will do an excellent job of puréeing both the ginger and the garlic for the dressing.
Dressing
1⁄4 cup (50 mL) soy sauce
1⁄4 cup (50 mL) natural smooth peanut butter
2 tbsp (25 mL) honey
2 tbsp (25 mL) rice wine vinegar
1 tbsp (15 mL) grated ginger
1 tbsp (15 mL) grated garlic
1 tsp (5 mL) Asian chili sauce
1 carton extra-firm tofu, cut into 1⁄2 inch thick (1 cm) slices
1 tbsp (15 mL) soy sauce
1 Asian eggplant, halved lengthwise
1 tbsp (15 mL) vegetable oil
Salt
1 red pepper, halved, seeded
1 pkg dried Chinese noodles,
12 oz (375 g), or linguini
8 oz (250 g) snow pea pods, stem end trimmed, halved on the bias
1⁄4 cup (50 mL) sesame oil
3⁄4 cup (175 mL) thinly sliced green onions
1⁄4 cup (50 mL) coriander leaves
1⁄4 cup (50 mL) chopped salted peanuts
1. Combine soy sauce, peanut butter, honey, vinegar, ginger, garlic and chili sauce in a bowl and whisk until smooth. Reserve.

2. Blot tofu with paper towels and brush with soy sauce. Brush cut side of eggplant with oil and season with salt.

3. Heat grill to medium-high. Grill tofu, eggplant and red pepper for about 4 minutes a side or until tofu is browned, eggplant is tender and red pepper is softened with charred skin. Place peppers in a plastic bag to sweat for 5 minutes or until skin has loosened. Peel away charred skin and cut peppers into strips. Cut tofu into 2-inch-long (5-cm) thin slices and cut eggplant on the bias. Reserve.

4. Bring a pot of salted water to a boil, add noodles and cook according to package directions. When noodles are about 1 minute short of their cooking time add snow pea pods and cook 1 minute or until tender and bright green. Drain and toss noodles and snow peas with sesame oil.

5. When ready to serve, toss noodles with reserved dressing, tofu and vegetables.Place on a serving platter and sprinkle with onions, coriander and peanuts.
SHARE