Grilled Sweet Potatoes & Red Onion with Tahini Dressing
Summer 2015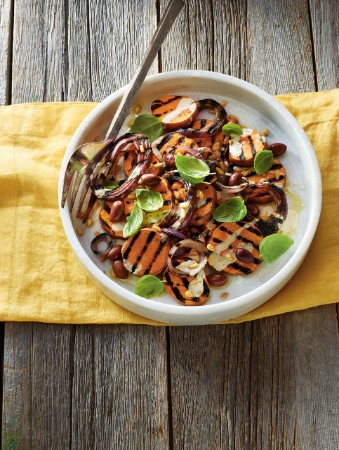 Grilled Sweet Potatoes & Red Onion with Tahini Dressing
Summer 2015
BY: Amy Rosen
This lovely Middle Eastern vegetable dish makes great use of fresh pantry staples, along with unexpected pops of colour and texture from pine nuts and basil, olives and chili. The creamy tahini dressing rounds out the bold flavours.
3 medium sweet potatoes, washed well and sliced into ½ inch (1 cm) rounds
1 small red onion, sliced into ½ inch (1 cm) rounds
3 tbsp (45 mL) olive oil, divided, seasoned with salt and pepper to taste
2 tbsp (30 mL) tahini (sesame paste)
Juice of ½ a lemon
3 tbsp (45 mL) warm water
A good pinch of chili flakes
Salt and pepper to taste
2 tbsp (30 mL) toasted pine nuts
¼ cup (60 mL) Kalamata olives
¼ cup (60 mL) fresh basil leaves
1 Heat barbecue to medium-high, approximately400°F (200°C).

2 Brush onion and toss sweet potatoes with 2 tbsp (30 mL) seasoned olive oil. Spread evenly over grill, trying to keep slices of onion rounds intact. Barbecue for 20 minutes, flipping once, midway, or until cooked through and lightly charred.

3 To make dressing, combine tahini, lemon juice, warm water and chili flakes. Stir until smooth, then add salt and pepper to taste.

4 When sweet potatoes and onions are ready, pile them onto a platter, drizzle with tahini dressing, and scatter with pine nuts, olives and basil. Drizzle with remaining 1 tbsp (15 mL) of seasoned olive oil. Encourage guests to toss their veggies in the tahini sauce to coat. It looks better separate, but tastes better mixed up!
SHARE