Grilled Sweet Pepper Soup with Garlic Croûtes
Autumn 2012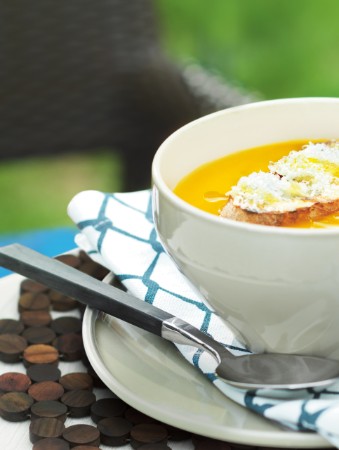 Grilled Sweet Pepper Soup with Garlic Croûtes
Autumn 2012
BY: Julia Aitken
In early fall, when sweet peppers are at their freshest, there's no finer way to start a meal than with this sweet-and-smoky soup.
2 whole heads garlic
3 tbsp (45 mL) olive oil
2 tsp (10 mL) finely minced thyme leaves
Kosher salt and freshly ground black pepper
2 banana shallots, peeled and halved lengthwise (leave root ends attached)
4 sweet red or orange peppers
5 cups (1.25 L) homemade or low-sodium chicken stock
Pinch of cayenne
1 to 2 tbsp (15 to 30 mL) balsamic vinegar
6 diagonal slices of baguette, each 1/2 inch (1-cm) thick
1/3 cup (80 mL) finely grated Pecorino Romano
Extra virgin olive oil
1 Preheat barbecue to medium.

2 Slice top third off each head of garlic. Set heads on a piece of foil large enough to enclose them. Drizzle cut sides of each head with 1 tbsp (15 mL) oil and sprinkle each with ½ tsp (2 mL) thyme leaves and salt and pepper to taste. Fold foil up over garlic, sealing edges well.

3 Set shallots on another piece of foil. Sprinkle with remaining oil, ½ tsp (2 mL) thyme leaves and salt and pepper to taste. Fold foil up over shallots, sealing edges well.

4 Turn off half the burners of the barbecue so you can grill over indirect heat. Put foil parcels of garlic and shallots over the switched off burners. Grill, with lid closed, until garlic and shallots are tender, about 45 minutes.

5 Turn on all burners of barbecue and increase heat to medium-high. Grill peppers with lid closed and turning peppers often, until tender and charred, 20 to 30 minutes. Transfer peppers to a large bowl, cover tightly and set aside until cool enough to handle.

6 Meanwhile, squeeze garlic out of skins into a small bowl. Mash garlic until smooth. Remove 1 tbsp (15 mL) mashed garlic and set aside. Put remaining garlic in a blender (not a food processor).

7 Coarsely chop shallots, discarding root ends. Add shallots to blender.

8 Remove skins, stems and seeds from peppers and discard any liquid in bowl. Chop peppers coarsely and add to blender, along with 1 cup (250 mL) stock, cayenne and remaining thyme. Blend until very smooth.

9 Pour pepper mixture into a large saucepan. Whisk in remaining stock and 1 tbsp (15 mL) vinegar. Bring to a simmer over medium-high heat. Taste and add more vinegar, cayenne, salt or pepper if necessary.

10 While soup is heating, toast baguette slices either on the barbecue or under the broiler until golden on both sides. Spread 1 side of each slice thinly with reserved garlic purée. Sprinkle each slice evenly withPecorino Romano.

11 Ladle soup into bowls. Float a baguette slice in each bowl and drizzle surface of soup with a little extra virgin olive oil.
SHARE