Grilled Steak, Buffalo Mozzarella & Tomato Tartine
Summer 2013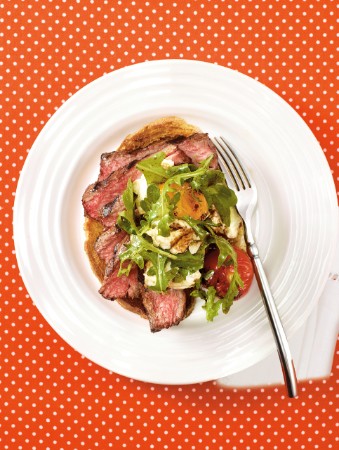 Grilled Steak, Buffalo Mozzarella & Tomato Tartine
Summer 2013
BY: Heather Trim
When it's really hot outside it's nice when much of the work can be done on the barbecue. But if you don't even feel like grilling, skip it and use leftover steak. Or pick up sliced roast beef from the deli and simplytoast the bread. You can substitute chicken or lamb for the meat.
¼ cup (60 mL) olive oil
1½ tbsp (22 mL) balsamic vinegar
1 large garlic clove, crushed
¼ tsp (1 mL) salt
Pepper to taste
4 slices Italian bread, ½ inch (1 cm) thick
1 pkg (340 g) cherry tomatoes, preferably small and multi coloured, about 2 cups (500 mL)
¾ lb (375 g) boneless steak, such as rib-eye or sirloin
2 cups (500 mL) lightly packed baby arugula
1 ball (4 oz/125 g) buffalo mozzarella
1 Grease grill and preheat barbecue to medium-high.

2 Whisk oil with vinegar, garlic, salt and pepper. Lightly brush both sides of bread with some of the vinaigrette mixture (it doesn't need to cover perfectly). Skewer cherry tomatoes. If using wooden skewers, the tomatoes are on grill for such a short time, there is no need to soak them. Season steak with salt and pepper.

3 Place steak on grill for 4 minutes; turn and continue to grill for 3 to 5 minutes for medium-rare, depending on thickness of steak. Place tomatoes on grill for last 3 minutes of grilling and bread for last minute, turning each once or twice until grill marks appear.

4 In a bowl, toss arugula and tomatoes with 2 tbsp (30 mL) vinaigrette. Pull apart large chunks of mozzarella and add to bowl. Stir gently. Thinly slice steak diagonally.

5 To serve, place grilled bread on each plate. Top with steak then arugula mixture. Drizzle with any reserved vinaigrette.
SHARE