Grilled Steak Hummus Pitas
Autumn 2007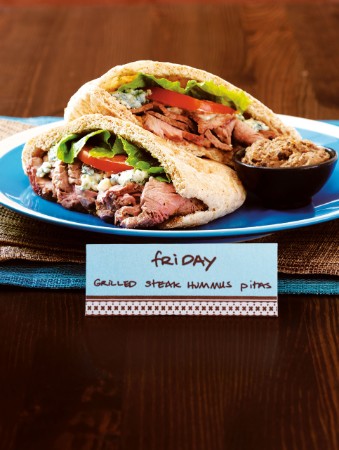 Grilled Steak Hummus Pitas
Autumn 2007
BY: Emily Richards
Planned leftovers are perfect to create another meal. Steak added to salads, soups and other favourite dishes makes easy dinners. In this recipe, a sandwich is easily filled with leftover steak so that it can be eaten on the run wrapped and left in the fridge to help yourself. Make the hummus ahead as well, and keep it in the fridge until you need it to make this dinner again.
1 cup (250 mL) cooked canned chickpeas
2 tbsp (25 mL) chopped pitted sun-dried black olives
3 tbsp (45 mL) extra virgin olive oil
4 tsp (20 mL) lemon juice
1 small clove garlic, minced
2 tbsp (25 mL) mayonnaise
1 strip loin grilling beef steak
2 whole wheat pita pocket breads, cut in half
½ cup (125 mL) crumbled blue cheese (optional)
1 tomato, sliced
Lettuce leaves
1. Process chickpeas and olives in food processor until coarse. Scrape down sides and add oil, lemon juice and garlic and pulse until combined and smooth. Scrape into bowl and stir in mayonnaise.

2. Place steak on greased grill over medium-high heat and grill for about 6 minutes, turning once or until medium. Remove to cutting board and thinly slice the steaks.

3. Spread pita halves with hummus and fill with steak. Sprinkle with blue cheese, if using. Wrap each pita with foil and place on greased grill over medium-high heat for about 5 minutes, turning once or until heated through and cheese is melted. (Alternatively, heat wrapped pitas in a 400°F (200°C) oven for about 8 minutes.)

4. Remove from foil and stuff with tomato slices and lettuce before serving.
SHARE