Grilled Spice-Coated Potatoes
Été 2005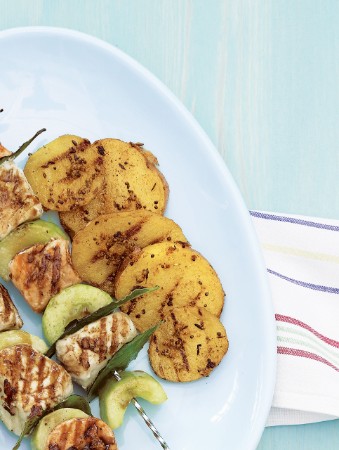 Grilled Spice-Coated Potatoes
Été 2005
BY: Jennifer McLagan
The spices give these potatoes an Indian flavouring. Make sure your potatoes are just barely cooked and wait until they are cold before slicing them.
1 tsp (5 mL) mustard seed
1 tsp (5 mL) cumin seed
½ tsp (2 mL) turmeric
¼ tsp (1 mL) cayenne
1/3 cup (75 mL)
2 tbsp (25 mL) freshly squeezed lemon juice
1 tsp (5 mL) kosher salt
Freshly ground pepper
4 just-cooked potatoes
1. Heat a cast-iron frying pan over medium-high heat. Add the mustard and cumin seeds and toast for about 30 seconds to 1 minute or until you can smell the spices and the mustard seeds pop. Remove from the heat and add the turmeric, cayenne, oil and lemon juice. Stir together and add the salt and the pepper. Pour into a small bowl and allow to cool.

2. Preheat the grill to high. Slice the potatoes ¼-inch (5-mm) thick and place in a single layer, in a shallow dish. Brush the potatoes with spiced oil and then place on the grill. Cook until golden brown on both sides, basting frequently with the oil.



Tip
By cooking potatoes ahead you just have to heat them through and crisp them up on the grill. You can use plain or flavoured oil.
SHARE