Grilled Sirloin & Monkfish with Killer Sauce
Summer 2019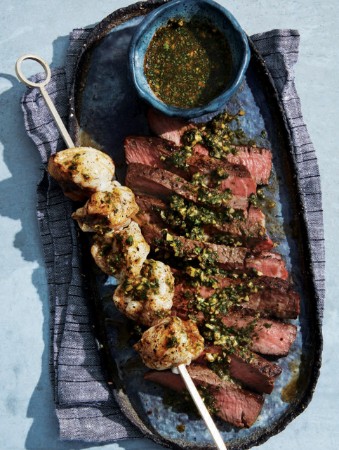 Grilled Sirloin & Monkfish with Killer Sauce
Summer 2019
BY: Christopher St. Onge
Top sirloin is cheap, lean and tender, but unlike rib steak, it's a bit shy on flavour. Here it's served with monkfish, otherwise known as poor man's lobster because, well, it's sweet with a similar texture and costs a fraction of the price. The sauce, a riff on a classic Laotian one always served with grilled fish, brings it all together. The secret is the addition of fiery ground chipotle. If your cilantro was trimmed of its roots prior to purchase, don't sweat about leaving them out.
1-lb (455-g) piece top sirloin, 1 inch (2.5 cm) thick
Salt and freshly ground black pepper
½ cup (125 mL) firmly packed cilantro leaves and stems
2 green Thai chillies
6 scrubbed cilantro roots (optional)
6 cloves garlic
¼ cup (60 mL) fish sauce
4 tsp (20 mL) sugar
Juice of 2 limes
½ tsp (2 mL) ground chipotle
12 oz (340 g) skinless monkfish, cut into
1 inch (2.5 cm) chunks
2 metal or soaked wooden skewers, 8 inches (20 cm) long
Peanut, grape-seed, or canola oil for brushing
1 One hour before grilling, remove the steak from the fridge and generously season it with salt and pepper.

2 Meanwhile, combine the cilantro, chillies, cilantro roots (if using) and garlic on a chopping board; finely chop and add to a small bowl. Top with fish sauce, sugar, lime juice and chipotle. Give it a stir to dissolve sugar and set aside.

3 Preheat a charcoal grill (or gas if necessary) to high heat.

4 Thread the monkfish between the 2 skewers and brush with oil. Lightly season with salt and pepper.

5 Place the steak on the centre of the grill and cook 1 minute, then give it a quarter turn and cook 1 minute longer; continue to do this for a total of 3 minutes per side to form an even crust on medium-rare steaks. Remove to a board, tent with foil and let rest while cooking the fish.

6 Using a hand positioned a few inches over the grate, find the coolest spot on the grill (it's usually around the outer edges). Place skewers over this spot; turning from time to time, cook for 5 to 7 minutes, or until fish flakes easily and is opaque between the pieces.

7 Carve steak into slices, divide between 2 plates and top each with a skewer of monkfish. Serve with the sauce.
SHARE