Grilled Shrimp & Green Olive Tapenade Bruschetta
Début de l'été 2010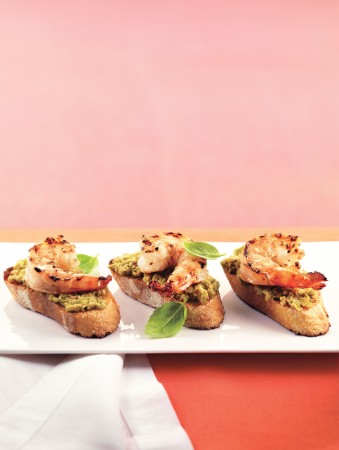 Grilled Shrimp & Green Olive Tapenade Bruschetta
Début de l'été 2010
BY: Heather Trim
These bruschetta taste especially great served warm. Green olive tapenade and La Bomba Italian antipasto are available in jars in Italian grocery stores and in the condiment or deli areas of large supermarkets.La Bomba is a spicy Italian spread made from finely chopped peppers, eggplant, mushrooms, artichokes, olives and olive oil.
1 lemon
1 tbsp (15 mL) olive oil
2 garlic cloves, minced
1 tsp (5 mL) dried oregano leaves
Several splashes hot pepper sauce
12 large or extra-large peeled uncooked shrimp,
about 8 oz (250 g)
Salt
2 tbsp (25 mL) chopped basil leaves
12 bruschetta toasts
2 tbsp (25 mL) good-quality store-bought green
olive tapenade or La Bomba Italian Antipasto
grilled shrimp and green olive tapenade bruschetta
1. Place 2 tbsp (25 mL) lemon juice, oil, garlic, oregano and hot pepper sauce in a bowl just large enough to hold shrimp. Add shrimp and toss until coated. Leave at room temperature, stirring occasionally while barbecue is preheating, about 15 minutes.

2. Oil grill and preheat barbecue to medium high. If using wooden skewers soak in water while grill is preheating. Once preheated, thread shrimp on skewers, it will make it easier to barbecue them. Sprinkle shrimp lightly with salt. Grill until cooked through and pink, turning once, 3 to 4 minutes.

3. Remove from grill and remove shrimp from skewers to a bowl. Toss with basil. Spread toasts with tapenade or antipasto. Set shrimp on top.

Tip To pan-fry shrimp, marinate about 15 minutes. Remove from marinade. Heat about 1 tbsp (15 mL) of marinade in a large frying pan over medium-high. Add shrimp and pinches of salt. Sauté until cooked through and pink, 3 to 4 minutes. Toss with basil.

Toast Tips

• If you wish to season toasts, sprinkle with salt, pepper, cayenne or a dried herb such as basil, Italian herb or oregano, prior to broiling or grilling.

• Broil or grill 30 to 60 seconds a side until golden and toasted or grill marks form. Cut a large garlic clove in half, immediately rub 1 side with cut side of garlic.

• Stored in an airtight container, toasts will last a couple of days.
SHARE