Grilled Salmon & Rice Fatoush Salad
Summer 2018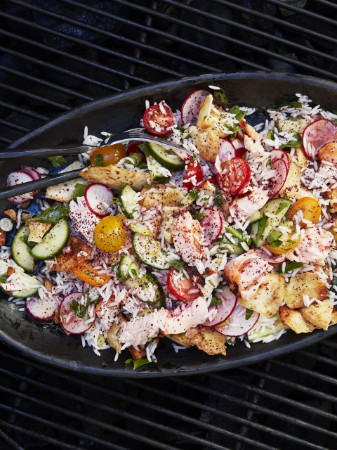 Grilled Salmon & Rice Fatoush Salad
Summer 2018
BY: Signe Langford
This super-easy-to-assemble main-course salad is bursting with the citrusy tartness of sumac, a Middle Eastern spice that's easy to find. Since you'll be starting with an unknown quantity of leftover salmon, we've made the recipe free-form; make the vinaigrette, toss the ingredients together, then use as much or as little of the vinaigrette as you need. For the proportions that follow, we started with an 8-oz (225-g) tail piece—about 1 cup (250 mL)—that was leftover and we used all the vinaigrette.
1 batch Sumac Vinaigrette, divided
2 white pita breads
Leftover grilled salmon, skin off, flaked or coarsely chopped
3 cups (750 mL) cooked rice, cooled
6 scallions, trimmed, white and tender green parts finely chopped
6 radishes, trimmed, thinly sliced
½ an English cucumber, cut in half lengthwise, then thinly sliced into half moons
1 cup (250 mL) cherry tomatoes, halved, or whole if they're tiny
1 cup (250 mL) finely chopped flat-leaf (Italian) parsley


1. Preheat oven to 400oF (200oC).

2. Make Sumac Vinaigrette first; set aside.

3. Cut pita breads into wedges, as you might a pizza—but very skinny wedges. You should get about 12 wedges from each pita. Add pita wedges to a large freezer bag, add ¼ cup (60 mL) of the Sumac Vinaigrette; shake vigorously to coat; allow the pitas to absorb all the vinaigrette—might take about a minute.

4. Transfer pita wedges to an ungreased or parchment-lined cooking sheet. Bake for 10 to 15 minutes or until deep golden in colour (no need to flip while baking). Allow to cool; pitas will crisp up as they cool.

5. Into a large bowl, add the flaked salmon, the cooled cooked rice, scallions, radishes, cucumber, cherry tomatoes and parsley; gently toss to combine.

6. To the rice and salmon mixture, add the remaining Sumac Vinaigrette; stir gently to combine and coat with vinaigrette. Taste and adjust for salt.

7. With your hands, break up the pita chips just a bit. Just before serving, add the pita chips to the salad, stir to combine. Serve immediately, while the pita chips are still crispy!



Serves 4 as a main-course salad or 6 as a starter/side
SHARE