Grilled Rib-Eyes with Peppercorn Butter
Summer 2004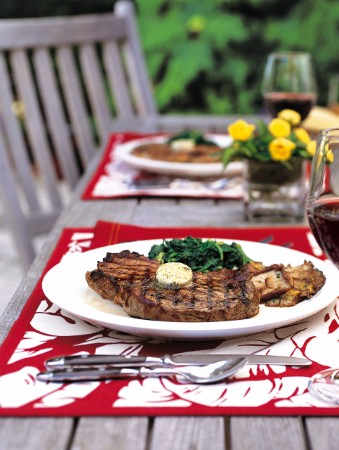 Grilled Rib-Eyes with Peppercorn Butter
Summer 2004
BY: Lucy Waverman
Great steaks happen when you buy excellent meat. If the meat is good, salt and pepper are all the seasoning you need.
Steaks
Four 10 oz (300 g) rib-eye steaks, about 1-inch (2.5 cm) thick
1 tbsp (15 mL) oil for brushing steak
Kosher salt and freshly ground pepper
1. Brush steaks with oil then grind a little pepper over. Salt just before grilling.

2. Heat barbecue to high. Place steaks on barbecue and cook on one side for 4 minutes, turn, and continue to grill for 3 to 4 minutes longer or until done to taste. Salt again. Serve with a pat of Peppercorn Butter (recipe follows) on top.

Peppercorn Butter
For colour, you could also include 1 tsp (5 mL) pink peppercorns.

2 tsp (10 mL) black peppercorns
2 tsp (10 mL) white peppercorns
2 tsp (10 mL) green peppercorns
1 tsp (5 mL) coriander seeds    
1/2 cup (125 mL) unsalted butter, cut into chunks
1. Place peppercorns and coriander seeds in a food processor and process until broken apart but with some texture. Add butter and combine. Place butter on sheet of plastic wrap and roll into a log. Refrigerate for up to a week and then freeze, if not used. Cut slices off to place on steaks as soon as they come off the grill.

Chive Potato Cakes
A great afternoon alternative to potatoes, these cakes can be made ahead and reheated in a 350ºF (180ºC) oven for 20 minutes.

1 lb (500 g) Yukon Gold potatoes, unpeeled
1 head garlic, separated into cloves, unpeeled
2 tbsp (25 mL) butter
¾ cup (175 mL) grated Pecorino cheese
1 egg
¾ cup (175 mL) chopped chives
2 tbsp (25 mL) vegetable oil for frying potatoes
1.  Add potatoes and garlic to cold water. Bring to boil, reduce heat to medium and simmer for 20 to 30 minutes or until tender. Drain well.

2.  Skin potatoes and coarsely grate. Slip garlic out of its skin. Discard skin and fold garlic into potatoes along with butter, cheese, egg and chives.

3.  Form mixture into 4 cakes about 1-inch (2.5-cm) thick. Heat oil in nonstick skillet and fry cakes 3 minutes a side or until a crust forms and they are heated through.
SHARE